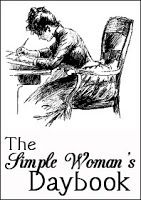 The Simple Woman's Daybook—March 23
The Simple Woman's Daybook—March 23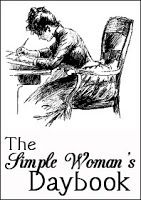 For today … Monday, March 23, 2009
Outside my window … rainy and windy
I am thinking … about how overwhelmed I feel about my to-do list
I am thankful for … Lent and the focused time God gives us each year to sacrifice and draw closer to Him in His suffering
From the kitchen … I have to get to the grocery store soon! hopefully, I can scrounge up something for dinner. (I usually have a plan, really!)
I am wearing … rusty orange hoodie with matching pants, white T-shirt, striped socks
I am reading … Lent and Easter Wisdom From G.K. Chesterton
I am hoping … to attend my parish's reconciliation service tomorrow night; there will be 17 priests available to hear confessions! it is always a beautiful evening.
I am creating … a cleaner, more organized home
I am hearing … 3-year-old and twins enjoying snacks; girl twin chatting; boy twin bouncing in his highchair
Around the house … the playroom is on the agenda today (such a daunting task!) and there is some laundry to plug away at
One of my favorite things … the fresh smell of bedding hung out to dry in the spring air. Mmmm …
A few plans for the rest of the week … continue working on my Lenten/spring cleaning; register for my knitting class (a birthday gift from dh and kids) and pick out my yarn at the needle arts shop; attend a benefit spaghetti dinner for a family of my parish (the mom is really struggling with health issues and they are raising money to hire childcare for the kids); scrapbooking Friday night with some friends
Here is a picture-thought I am sharing with you …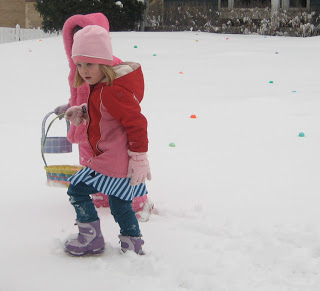 One year ago today was Easter Sunday. Remember how early it was last year? As you can see, we held our neighborhood Easter Egg Hunt on our snow-covered lawns. The white stuff and cold temps didn't stop these kids from participating in the festivities! Hopefully, it will be something they'll never forget; I know I won't!
For more daybooks, visit
here
.