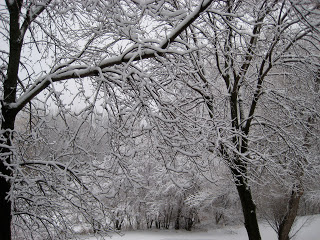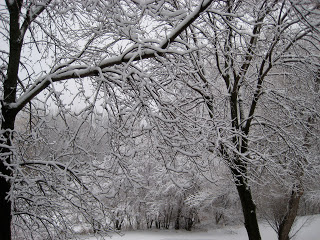 When I woke up this Palm Sunday morning, I thought, "It sure doesn't look like we're only one week away from Easter! Are we going to have a repeat of
last year
?"
Then, I reflected upon the crowds in today's Gospel holding up their palm branches and shouting praises to our King. "Hosanna! Hosanna! Blessed is He who comes in the name of the Lord!"
And it came to me. Even the snow praises the Lord, as Psalm 148 so eloquently sings.
Praise the Lord!
Praise the Lord from heaven, you that live in the heights above. Praise him, all his angels, all his heavenly armies.
Praise him, sun and moon; praise him, shining stars. Praise him, highest heavens, and the waters above the sky.
…
Praise the Lord from the earth, sea monsters and all ocean depths; lightning and hail, snow and clouds, strong winds that obey his command.
…
Praise him, kings and all peoples, princes and all other rulers; girls and young men, old people and children too.
Let them all praise the name of the Lord!
…
I always pictured the actual Palm Sunday to be a bright, warm day. But does it really matter what the weather was—or is—outside? Sun or snow, nature praises the Lord no matter what. And so should I! No matter the fact that I'm still wearing my winter coat and mittens, I am a mere one week away from Easter. Entering the holiest of weeks. And no matter what is going on around me, I will praise and bless my Lord this week. I will walk with Him to Calvary, enter into His suffering to the best of my ability, and try to comfort Him in my little sacrifices. So that next Sunday—whether I'm in a springy skirt or wool trousers—I may rejoice and finally cry out that word we've all been so longing to proclaim again.
A blessed Holy Week to you, dear friends in Christ!