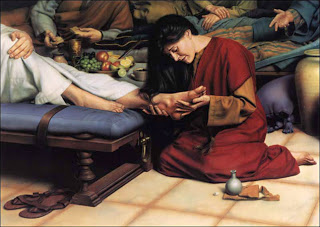 At the Feet of Jesus
At the Feet of Jesus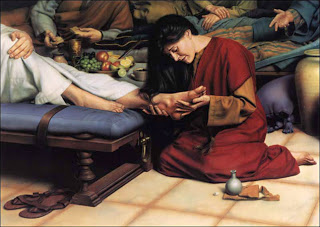 The tiny, unborn feet of Jesus gently nudging
the interior of His mother's womb.
Newborn feet caressed and kissed lovingly
while in the arms of Mary.
At Joseph's side, toddler feet running joyfully
over sawdust and wood shavings.
The feet of an emerging teen returning home from the Temple of Jerusalem,
in obedience to His parents.
The bed of the River Jordan accepting the imprint of the feet of Jesus;
Father, Son and Holy Spirit.
Feet of Jesus in the desert; hot, dry sand of suffering and temptation.
Is there any place that our Lord Jesus will not go
to heal our sinfulness?
Our Lord and our God walking on water;
the feet of love, faith and hope.
He invites us to join Him.
As our feet sink into the depths,
Jesus reaches out for us.
Mary, listening to the Word,
at Jesus' feet.
God washes the feet of His creation.
His feet rest at the table of Passover.
"This is My body which is given for you.
Do this in remembrance of Me."
Jesus stripped; forced to mingle the skin of His feet
with cold, rough stone;
wet with sweat and blood.
His feet stripped of skin as
He sorrowfully winds His way through Jerusalem,
cross on His back.
Feet, sacrificed in Love,
nailed through, pierced.
Resplendent, resurrected feet of Jesus,
joining us on the walk to Emmaus.
"Jesus took the bread, blessed and broke it,
and gave it to them."
Eyes opened!
poem by Terri Gaffney; image by Simon Dewey