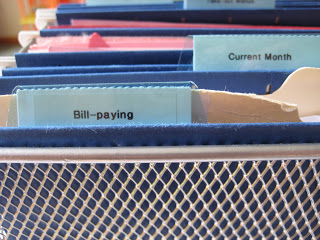 A Simpler Filing System (I Hope!)
A Simpler Filing System (I Hope!)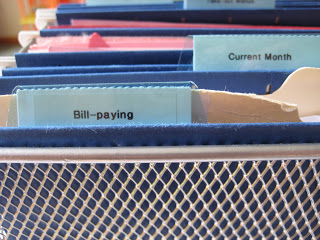 Household filing systems can be a nightmare. At least they can be for me. I have tried several approaches, and every time, I realize I have made it too complicated. And I can't keep up.
Last summer, I started a new monthly filing system. Something simpler, I had hoped. This time, however, the problem was not that it was too complicated, but that I never fully implemented it! (Ha!)
The first part of the system, I did set up. It is a counter-top file with various folders in it. I made two folders for bills: 1) for bills due 1-15 and 2) for bills due 16-31. I also made a folder for my kids' school papers (class lists, calendars, etc.) And I made an "action" folder for various items I need at my finger tips—you know those things that end up in a pile on your counter, because you need them but you have no where to put them?
All year long, the system only partially worked, because I never set up the second part of the system, which included the other folders where those darned paid bills would finally end up. (In other words, after the bills were paid, they went into a Current Month folder, with the intention of moving them into a more permanent file at the end of each month.)
Alas, you should have seen my counter-top file box. The Current Month folder was so stuffed with not just a month's worth of paper but nearly a year's worth of paper! Paper that really, really needed to be filed. But how could it be when I never set up the rest of the system?
So, today was the day I finally tackled the paper pileup that has been haunting me all year (and really, for much longer than that, because as I stated, these filing systems have never worked well for me). Today, I finished putting the rest of this new, simpler system into place. So far, I have pitched old bills and receipts going way, way back … I have a big grocery bag full of paper to be recycled. Now I just need to get a shredder!
I heard about this (hopefully simpler) system awhile ago on the
Mother's Rule of Life
Web site. One mom wrote in about paper clutter, and one commenter suggested a monthly filing system, rather than a categorical one.
Here's how (the rest of) it works: Label two sets of files January-December. One is for the Current Year, and one is for Last Year. Then, have one more separate file labeled Current Month or This Month or something along those lines. Once bills are paid, you stick them in the Current Month folder. At the end of the month, you put them in that month's file (i.e., July). At the year's end, you move all current folders into the Last Year's files, and you recycle the last, Last Year's files. (Of course, this does not include those documents you need to keep longer than a year or so. Those probably should have their own, permanent files.)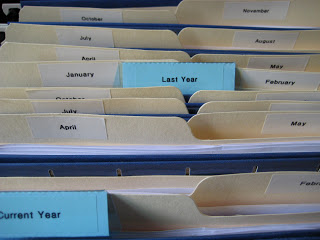 So, after a year of not filing anything, all of last year's papers and everything up until this June is in its respective files. Yay! Let's just hope I can keep up this time =)