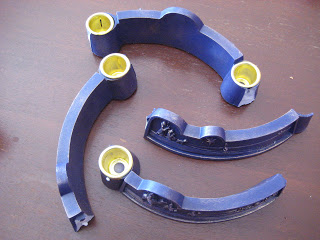 This morning, there was a large package on my front porch. My Amazon order had already arrived earlier this week, so I wasn't sure what this particular box could be. Then, I noticed who it was from …
… It was my Advent wreath! Finally!!
Although I have gotten very used to my simple little
wreath
and have actually grown quite fond of it, I was excited to introduce our new "Journey to Bethlehem" Advent wreath—with purple and pink tapers—on Gaudete Sunday, and enjoy it for the second half of Advent.
I quickly opened the box to find …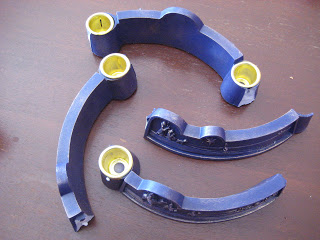 … an Advent wreath in four pieces!
I didn't know if I should cry or laugh. So. very. unbelievable, I thought to myself!
I packed it back up and will get it ready to return.
Perhaps a formal Advent wreath is not meant to be this year. Perhaps this is a continuation of the lessons God is trying to teach me during this time of waiting, hoping and preparing. I thought that I had learned my little lesson already, but perhaps there is more to it.
I think I'm OK with it all. A little disappointed. But OK.
Our Advent has been so blessed this year, and I have much to be grateful for. Even though this time of year is naturally busy, I feel like it is going a
little
slower. I am grateful that I still feel like I don't have to do it all (and that's huge for me =) I am enjoying our simple prayers, books, Advent calendar and count-down chain. It is fun to make little bead projects with my preschooler, rather than doing any formal lessons with her this month. It is good to talk with the kids about how to prepare
our own manger
, the manger of our hearts, for the Baby Jesus. All the good deeds make His bed warm and cozy. All the bickering and complaining isn't very welcoming … Yes, with or without a formal wreath, our Advent has been good. Not perfect, because it never will be, but oh so good.
With that said, we look forward to a fun weekend ahead of us. We plan on putting up our Christmas tree, and celebrating the feasts of Our Lady of Guadalupe and St. Lucia. What will you be up to this weekend? Whatever it may be, I pray that it is a blessed and joyful time, as we wait with anticipation for the coming of Our Lord Jesus on Christmas!
Peace to you …