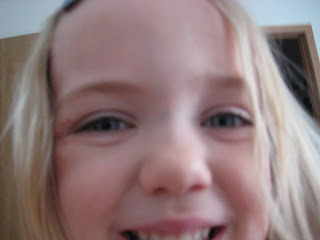 Out of the Mouths of Babes
Out of the Mouths of Babes
At our
Week 3 Garden Party
, I was explaining what all of the various menu items symbolized. When I got to the ice, I said that it represented hail.
My preschooler then exclaims, "Hail, Holy Queen, Mother of mercy, our life, our sweetness and our hope!"
She's awfully quiet during our family Rosaries, but I guess she really is absorbing a lot!
***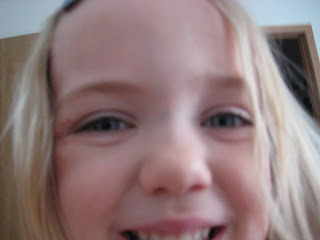 (a self-portrait)
***
On the way home from school one day this week, my older girls started chiming, "So-and-so's a chicken. So-and-so's a chicken."
I told them that was not a very nice thing to say, and then I asked them where they learned something like that.
And my same preschooler answered, "From old, fat Gilbert."
"Who is old, fat Gilbert? " I asked.
And my oldest answered laughingly, "She means
Fat Albert
."
Which made me start laughing hysterically at old, fat Gilbert, because that is just too. darn. cute for this momma!
(My husband let them watch an episode of Fat Albert on Netflix this week … I can't remember much of that show, but I think next time we will have to observe it with them. Just to make sure it's OK and not teaching them too much about calling people chickens.)
***
Well, have a lovely weekend! And a very blessed Mother's Day! To all of you mothers out there, thank you for your inspiration and dedication to your vocation. You truly bless my life, and I appreciate your encouragement and support!
I'll leave you with this very good reminder that I kept taped to a cabinet in my old laundry room. We'll see where it ends up in the new house:
The most important thing she'd learned over the years was that there was no way to be a perfect mother and a million ways to be a good one. (Jill Churchill)