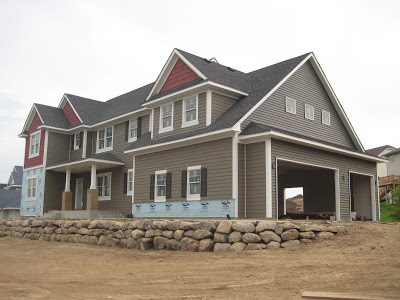 The End is in Sight
The End is in Sight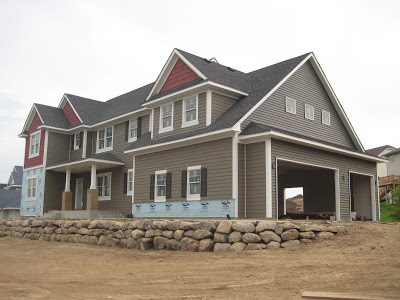 While we don't have an exact close date, yet, we are getting close. Maybe a month or so left. So much is done. What remains includes finishing details, such as floors, cabinets, trim, etc.
The exterior is nearly completed. Where the blue house wrapping stuff still shows is where stone will be soon. Stone also will be on the bottom of the porch columns. We had to do a bit of landscaping in the front. A boulder retaining wall. This was not in the initial plan, but after seeing how the land was not so flat, it became necessary.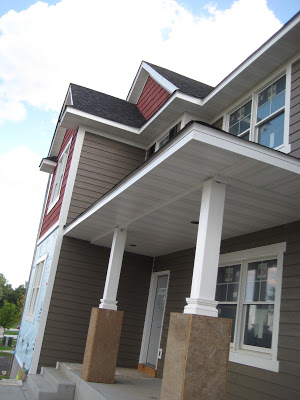 Inside, it has been fitted for all the plumbing and electrical lights and outlets. It also has been sheet-rocked.
And painted (first coat only)! We are still trying to get the kitchen paint color just right.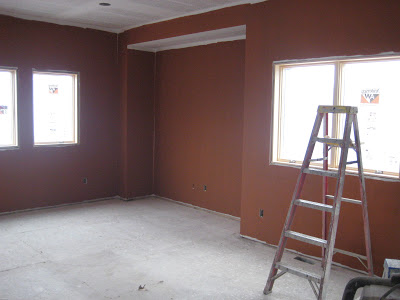 (This is our family room.)
A second retaining wall is in the backyard. It will almost be like we have a two-level backyard. The top part of the retaining wall, and then it will slope in the back and open up to a nice, flat yard. The possibilities are endless in my mind ~ a veggie garden, a Mary garden, plenty of space to run around and play, not to mention spots to sit on quilts and read … Oh! I can't wait! (We will eventually build a deck, but that will be phase 2 or 3 … or 4 of our plan =)