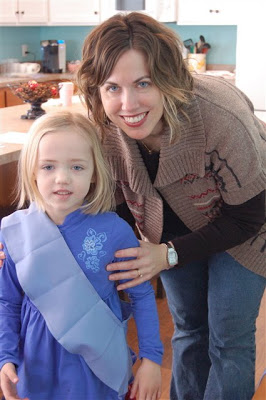 Little Flowers :: Love of God
Little Flowers :: Love of God
Our third
Little Flowers Girls' Club
meeting took place the Saturday before Valentine's Day. This was such a fitting time for this particular meeting, because the virtue we focused on was
Love of God
.
Before we got into the meeting, we presented each girl with her sash and the first two badges that she earned, Faith and Hope. Each mother presented her daughters with the sashes and badges.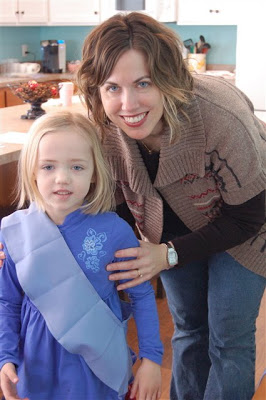 (Here's me with my 5 year old.)
In the Leader's Guide, it uses the image of a flower to explain how the three theological virtues—Faith, Hope and Love—fit together.
Every flower has a root, a stem, a blossom; this last is the fairest of the the three. And it is just the same with the glorious flower which the three theological virtues combine to form. From the root, which is faith, springs the stem, which is hope, and the lovely flower of charity crowns them both.
~ Father Lasance's Catholic Girls Guide
Lena drew out an
adorable flower
, which I replicated to illustrate this to the girls.
Then, they were able to color their own flowers and save them in their notebooks. This truly is the foundation of the virtuous life, and an illustration can be so helpful in explaining something complex.
We then got more into the specific virtue of Love of God. We discussed how we can do everything—playing, praying, working, learning—for the love of Jesus. This will make Him so happy, and it also will help us avoid sin. We can tell Jesus often, "I am doing this for love of You, Jesus!"
Our notebook page was so pretty-in-pink this month. Again, it tied in so beautifully with Valentine's Day!
St. Agnes was our saint for this particular virtue. And since she is often pictured with a lamb, and her name means lamb, these lamb cookies were the perfect treat.
Aren't they sweet?!
The lamb also tied into the fact that Jesus is the Lamb of God and how the Holy Mass is indeed the very love of Jesus on the altar, the most perfect expression of God's love for us!
Since this meeting took place so close to Valentine's Day, we did one extra activity, an idea I got from Lena. We made "Love of God Bracelets" out of gummy heart candies and little ribbons. The directions are
here
.
The girls were encouraged to do little acts of love for God before eating a candy.
St. Agnes, pray for us!