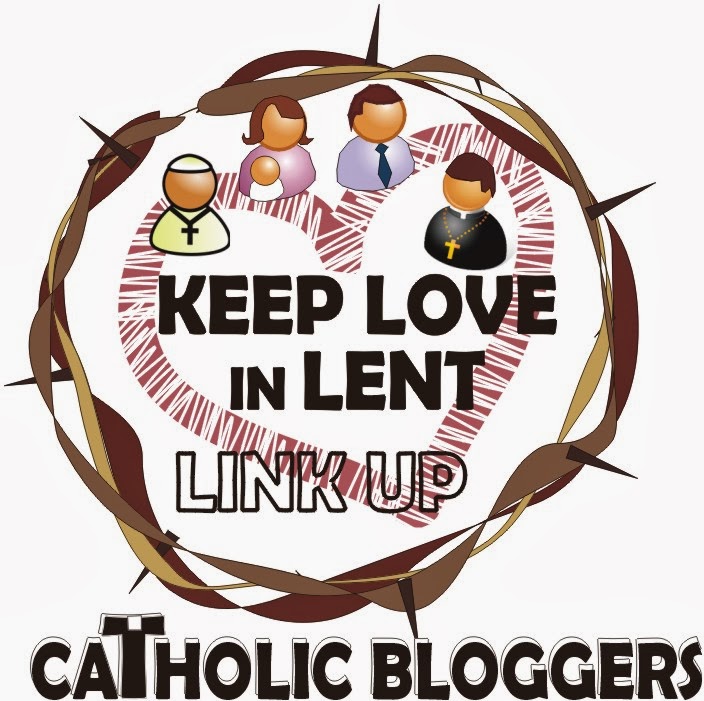 Keep Love in Lent
Keep Love in Lent
God bless, and happy Lent!
After writing seven blog posts last week, it has been a little quiet here this week. And rightly so, for yesterday began the holy season of Lent with Ash Wednesday. This year, more than any other year, I have been longing for Lent. Maybe it's because it started so late this year, and therefore the season of prayer and fasting just seems long overdue. But also, as I was preparing for Lent over the past few weeks, I had an epiphany that has helped me welcome this holy time.
I recently wrote about my realization that Lent isn't about what we do but about the spirit in which we do it. It's not about how many things I can check off a list, how many activities I can do with my children, how perfect I observe my fast, how many prayers I say in a day. It's not about those things, because if I do those things without love, well, like Scripture says, they are like "a nosy gong or clanging symbol" (1 Corinthians 13:1).
So, to keep love in Lent this year, I am looking inward to what Jesus is asking of me. And through much prayer and contemplation, He is asking me specifically to focus on being present to the moment by giving up Facebook and fasting from the computer from 3-8 p.m. everyday.
The purpose of this sacrifice is to be present to my family at those crucial hours of the day, so that I can love them better. That is not to say I will spend a ton of time on the computer outside of those hours. My goal really is to be on the computer much, much less. But giving my sacrifice a specific timeframe hopefully will help me form a better computer habit in the long-run. I want this to stick well past Lent!
To do this sacrifice with love, I am drawn to be aware of each moment that I think about checking my e-mail or browsing Pinterest and ask, "Jesus, what are you asking of me right now?" And God willing, I will respond faithfully in some small way.
This is my heart, as I begin this Lenten journey. This is the way I will strive to keep love in Lent, deep within.
Plans for the Family
In addition to my own, personal Lenten journey, as a mom of six children, I am called to lead my family through this penitential season, too. And I begin by making small changes to our home decor. A purple cloth, the Pieta, a reminder to repent, a crown of thorns. The soundtrack to Lent that I cannot wait to get is Lent at Ephesus. Did you hear that I won it over at Pinewood Castle? (Yeah!)
Prayer
My family and I have recommitted to family prayer each night. The children attend Stations of the Cross each Friday at school, and I hope to join them or attend in the evening. We also have been known to just pray them at home. We also will pray a family Rosary each Sunday. Sometimes it's nice just to have a place to pray.
Fasting
As a family, we are fasting from candy and TV. This may not seem very creative to some people, but this is what we need to do, in order to make more room in our hearts for greater love for the Lord.
We also will eat very simple suppers during Lent and have a special feast each Sunday. We are going to try this practice as part of our current budgeting process as well as to be in solidarity with the poor. The special feast each Sunday reminds us that Sundays are holy and meant to be set apart from the rest of the week.
At The Practicing Catholic blog, Lisa is running a Lenten series called Soup and Stories. She, along with guest bloggers, will feature different soup recipes and a story behind them, throughout these 40 days. Talk about simple supper! What can be more simple than soup?
Almsgiving
During Spring Break, one plan that we have is to finally make Blessing Bags for the homeless! There are tons of ideas on Pinterest, which is where the above link will take you. I will work on knitting a prayer shawl for the Prayer Shawl Ministry at my parish.
Counting Down the Days Until Easter
I made a very simple Lenten calendar for my family, and it hangs on our refrigerator. It features our Lenten plans as well as some special activities we have planned for Lent, such as Stations of the Cross on Fridays. There are many beautiful calendars online that are printable or duplicatable. I just made mine in Word, because that's how much time I had this year! Calendars can be a nice way for children to countdown the days until Easter as well as anticipate special solemnities or feast days during Lent.
In the past, I have done an activity with the children called Sacrifice Beans, putting a bean in the jar for little good deeds done throughout the day. On Easter, the beans transform to jelly beans, as a way to visually see what God can do with our little sacrifices. Since we are doing other behavior incentives right now, I don't think we will use Sacrifice Beans this Lent. But it is a great tradition that I am sure will reappear in the future (or maybe even just for Holy Week)!
Can't Forget Books
We will read two special books during Lent: Amon's Adventure and Welcome Risen Jesus: Lent and Easter Reflections for Families, as well as favorite picture books. My spiritual reading will include Finding True Happiness by Fulton Sheen and The Long Loneliness by Dorothy Day (for Well-Read Mom).
A Season of Joy
Lent really is a season of joy! Joy? Yes, joy! It is a sober joy, an inner joy. But it is indeed joy! God is never outdone in generosity! What little we do this Lent, let us do it with great love! Pick and choose what is doable for you and your family, and focus on that! There are so many amazing ideas out there, but we have to be true to who God created us to be and what He desires from us—no more, no less! So, let us have expectant faith that God will accept our little sacrifices and in return, give us so much more! All praise and glory to Our Lord and Savior, Jesus Christ!