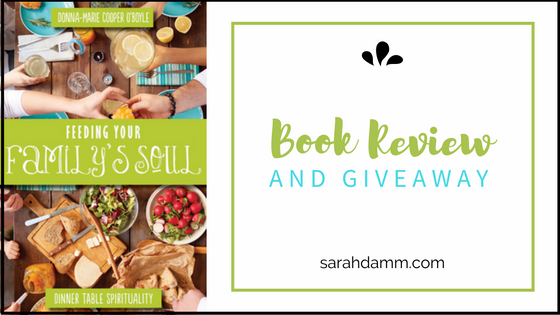 Feeding Your Family's Soul :: Book Review & Giveaway
Feeding Your Family's Soul :: Book Review & Giveaway
When I was a child, my family did not gather around the dinner table to share life together. Sure we ate at the same time, but on most nights, it was at the kitchen counter with the evening news blaring on the TV. When I visited my aunt and uncle's home, I savored the commraderie around the dinner table—dishes being passed around, conversation flowing, even clean up and the rotation of chores was a novelty that I secretly wished was part of my normal routine.
When my husband and I married and started our family, dinnertime became very important to us. I don't recall us talking about how we would gather together; we just did it. Perhaps my childhood experience unconsciously made dinnertime sacred to me. I am grateful that both of us knew the significance of coming together at the end of the day to pray, talk, and share a meal together.
When our children were small, conversation wasn't very deep or insightful, but it was a chance for Greg and I to check in with each other after a long day. As more children joined us around the table, it became important to share highlights of the day. It gave the children a chance to share the spotlight, and it helped us connect the dots regarding what was really going on at school and among friends.
We recently entered a new phase in our family life. Our two oldest daughters have started playing volleyball in the fall, and our family dinnertime has certainly been affected. Late-afternoon and early-evening games require us to eat in shifts. It can be tricky to have dinner ready for half of the family, when I am at a game. Missing out on the one time of the day when our entire family can be together can throw the rest of the evening off, too, since dinnertime is often the transition into our bedtime routine.
Thankfully, volleyball season has an end date, and our regular routine will return in about a month. However, this season of hit-or-miss meals together reminds me of the importance of the everyday dinnertime tradition and how all families need to fight to preserve it.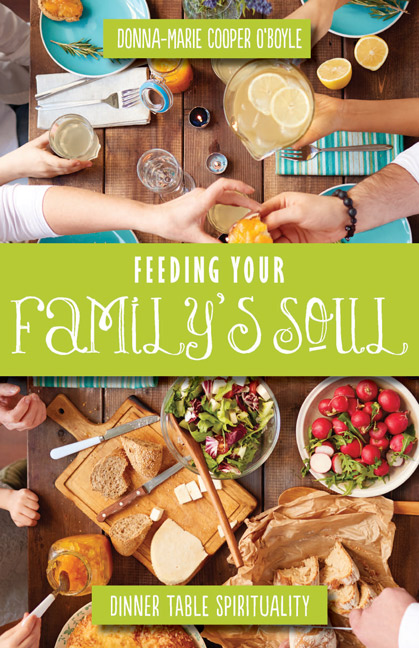 In her new book Feeding Your Family's Soul: Dinner Table Spirituality, Donna-Marie Cooper O'Boyle gives families a companion in the fight to preserve dinnertime togetherness. In it, she shares 53 conversation starters for each week of the year. Not only do the chapters give parents ideas on how to shape dinnertime conversation, they include wisdom from the saints, prayers, Scripture quotes, questions, and delicious recipes to prepare together.
Each week, the family will learn about an aspect of the Catholic faith through storytelling and discussion, which will allow children (and adults alike) to ask questions and seek understanding. If a family has some extra time on Saturday and Sunday to introduce the week's theme, it will provide a springboard for continued conversation during shorter, weekday meals.
This book can be utilized in a number of ways. A family could easily begin with Chapter 1 and go through the book in order. Or a family could skip around the book and focus on the chapters that line up with the liturgical calendar. For example, Chapter 4 on "The Communion of Saints" could be highlighted the week of November 1, when the Church celebrates All Saints Day, and Chapter 47 on "Why Catholics Honor the Blessed Mother" could be read and discussed during the month of May, which is dedicated to Mary. In addition, if parents want to focus on a particular virtue with their children, such as mercy, they could easily incorporate the corresponding chapter (Chapter 11 on "Learning Mercy from St. Faustina Kowalska") to help that teaching along.
I am really excited about incorporating Feeding Your Family's Soul into my family's dinnertime conversation. Especially after this fall's volleyball season, it will get us back on track with connecting to and conversing with each other on a daily basis. I am confident that the stories, questions, and prayers will enhance our family's prayer life and extend our shared experience into other parts of the day.
If Feeding Your Family's Soul is a book you'd enjoy adding to your spiritual library, I am pleased to give away three copies, thanks to Paraclete Press. To enter the giveaway, simply fill out the Rafflecopter giveaway below. I will pick three winners next Friday, Oct. 7, the Feast of Our Lady of the Rosary.