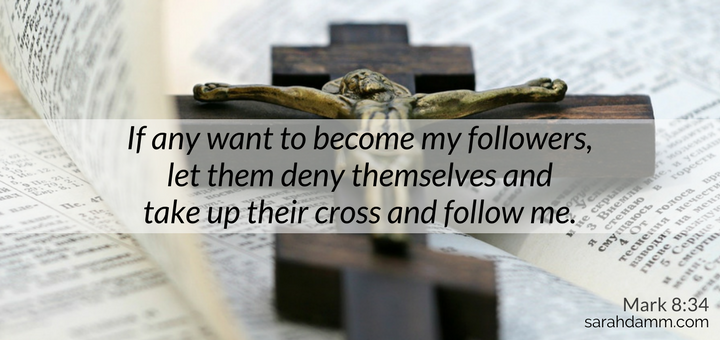 Finding Joy in the Season of Lent
Finding Joy in the Season of Lent
This was originally posted during Holy Week 2011. I thought it might be helpful to repost it earlier in the Lenten season in case we are already waiting for Lent to be over. Perhaps we are even tempted to give up. The Lord is inviting us into the desert to be with Him, to remain close to Him, and to one day share in His glory for all eternity. We can do this! We can do this with joy!
+++
This is the very midst of the holiest week of the year. It is a time truly devoted to focusing on the Passion and Death of Our Lord, Jesus Christ … And to think that Lent is over. Already? For me, this Lent went by faster than any other Lent I have experienced.
When I compare Advent to Lent, I have a history of thinking Advent goes by way too quickly, and Lent cannot be over soon enough.
Near the end of Advent, when Christmas is just a couple days away, I always long for a bit more time to anticipate, to hope, to wait upon the Lord's coming into the world. I really like that feeling of expectancy. Advent is such an exciting time!
During past Lents, however, I couldn't wait for it to be over, so I could engage in celebrating the Resurrection. Are my Lents really that difficult and painful? Of course not! I am a wimp when it comes to suffering, not really wanting to give up my little comforts or work any harder than I have to, to be holier.
And even with the little things I offered up to the Lord, Lent still felt long, and sacrificing for 40 whole days was certainly long enough. And Holy Week. Well, Holy Week was always hardest of all.
What a lazy soul I am! Oh, how I have a long way to go to truly feel worthy of being one of His disciples! I desire it, yes. I am striving, yes. But am I doing enough? Am I truly ready to go after Him, deny myself, take up my cross, and follow? (Mark 8:34)
Thankfully, this year, I was given the grace to approach Lent differently. Perhaps I finally was able to grow just a bit in my discipleship, in my taking up of my cross.
At the beginning of Lent, I heard on Catholic radio that Lent really is a joyful season.
What? Can you repeat that, please? A joyful season?
Joy? Really?
I had never thought of it that way before. But the more I mulled that radical concept over in my mind, the more I realized that, yes, Lent truly is a joyful time.
Not joyful in the happy, celebratory sense. But joyful in a sobering sense.
A sober joy.
A joy that is free from frivolity or excess. A joy that is subdued. Yes, even a more serious joy.
But definitely joy.
Lent is a way of clearing out the clutter in our minds, hearts, and lives, and allowing the cause of our joy to shine through.
And where do we find real joy?
Real joy is not pleasure in the created things of this world that can only make us happy for so long. (Hence, the real reason for those many years of giving up chocolate.) But true, pure, authentic joy is in the Creator, the One who gives life, the One who gives chocolate, the One who allows grace and blessing and even suffering so that we may grow closer to Him.
This realization shaped my entire Lent this year. But it wasn't anything that my humble little mind could have come to on its own. No, it was a true Divine gift. Something that the Lord wanted me to finally comprehend.
And I think that everything that, by God's grace, my family did during this season—our tiny Lenten sacrifices—allowed our hearts to be turned toward this radical new concept of living a sobering joy with Christ.
Our family focused on reclaiming family prayer. Every night, with only a few exceptions, before a movie or books, we gathered together to pray night prayer, Stations of the Cross, or a Rosary. And by God's grace, I am hopeful that long into Easter and Ordinary Time, this revised habit will continue! (Growing closer to Him. Real joy!)
Both books in my Lenten reading program have focused on this idea, too. One Thousand Gifts and He Leadeth Me talk about how the Lord gives all. Even really hard things, He allows. And that we are called to trust. To accept. To thank. To surrender. To grow. No matter what situation we are in. In order to become closer to Him. To walk with Him. To learn an important life-lesson. To take up our cross and follow. Both authors use their own trials to bring this truth to light and to inspire me to see this as very real, very beautiful truth in my own life.
Yes, to take up our cross. Not an easy concept in this cushy world we live in. I don't like to suffer. And I certainly don't suffer well by nature. But this Lent, I have been open to Jesus' invitation and the blessing it really is to be permitted to suffer (even a little) with Him and for Him. It might not even be something that I can completely comprehend. But I accept it as truthful mystery. His folly is wiser than human wisdom. His ways are not my ways. He is all-good, all-knowing, and all-loving. And sometimes that is all it takes to follow.
Even when it means that I must follow Him onto those rocky roads that lead to Calvary. The ones that are dusty. The ones that make my tired feet bleed. The ones that make me fall flat on my face.
And rather than look at those roads as roads I have to walk, these 40 days as something I have to abide by, I have started looking at them as roads I have the privilege of walking on with Him.
Lent is that time. The concentrated time He invites me to join Him, to be closer to Him, maybe even to lighten His load a bit, like Simon and Veronica did. Simply to be with Him at the foot of the cross. What an incredible honor!
What joy!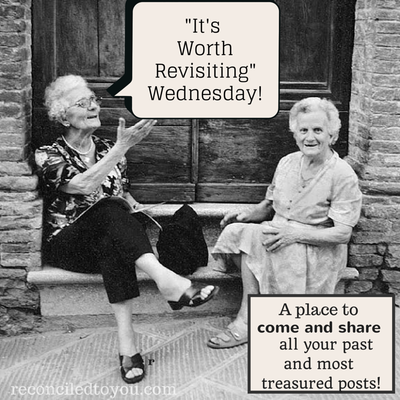 For more #WorthRevisit posts, please visit Allison at Reconciled to You and Elizabeth at Theology is a Verb.