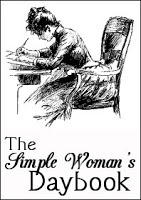 The Simple Woman's Daybook—February 16
The Simple Woman's Daybook—February 16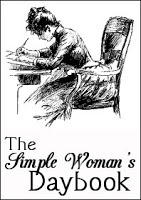 For today … Monday, February 16, 2009
Outside my window … overcast, windy, cold
I am thinking … about our plans for the upcoming Lenten season
I am thankful for … my daughter's school—it's a small Catholic immersion school that we just love. The Faith is central to everything that is taught and done. It's an amazing place.
From the kitchen … chocolate chip
Vita-Muffins
for Mom and BBQ beef soft tacos (a new recipe) for dinner
I am wearing … jeans, green hoodie, black long-sleeved T-shirt, knee-high socks
I am reading … my new magazine, Faith and Family
I am hoping … that folks will visit me at my new blog. I like it here; I hope they do, too!
I am creating … the same pink scarf
I am hearing … my 3-year-old talking to me
Around the house … laundry, laundry, laundry! I am in a laundry rut! Any tips out there? Also, I am starting to think about spring cleaning …
One of my favorite things … a family-filled weekend
A few plans for the rest of the week … go to New in Town with a friend tonight; watch Lost with hubby Wednesday night; conference with preschool teacher Thursday; get ready for my retreat this weekend
Here is a picture-thought I am sharing with you …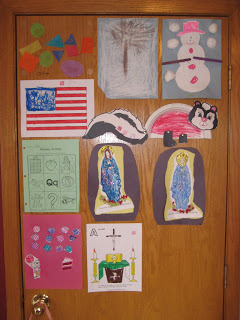 This is our art gallery. The place where school and home projects get displayed. It changes monthly. Note: our Lady of Lourdes grottos, which are now up in the girls' room, per their request.
For more daybooks, visit this
blog
.