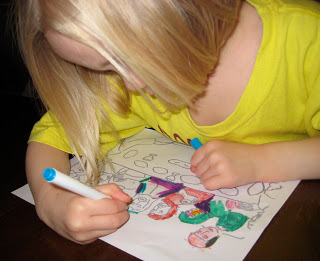 The Holiest Days
The Holiest Days
We had a blessed Triduum and joyful Easter Sunday! And, as my girls remind me daily, we are still celebrating the glorious Resurrection of Our Lord, for the next 50 days in fact!
Here is a glimpse of how we spent the holiest days of the year …
On Holy Thursday and Good Friday, we took time each day to read stories, pray, reflect and prayerfully color pictures about Our Lord's passion and death. We also listened to
this piece of music
; thanks, dear Regan, for the recommendation. It provided a thoughtful and solemn meditation for all of us.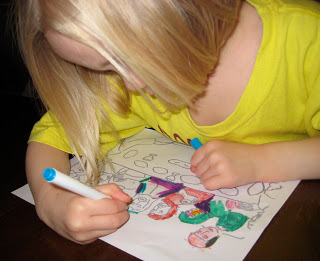 On Good Friday, we ate traditional Hot Cross Buns for breakfast, thanks to a local bakery that offered them during these holy days. We kept supper simple, too. We also read the Gospel at 3 p.m., and the kids watched an animated passion movie. That night, my husband and I watched
The Passion
. As much as it is so painful to watch, I don't think my Lent would have been complete without viewing it again.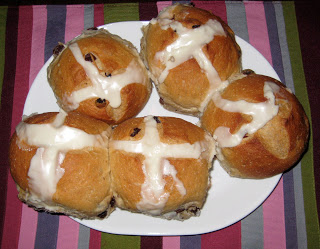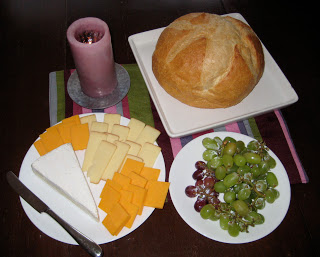 On Holy Saturday, we colored Easter eggs.
This is my girl who kept wanting to re-dip the eggs to experiment with new colors. I allowed this, despite my internal hesitancy, but stopped her just before they would have started turning brown. (My husband was very proud of me for allowing her to flourish in her creativity. He knows me too well: I wanted the eggs to stay the pretty yellow and pink; she wanted to think outside the Crayola box!)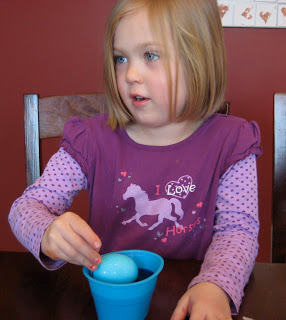 The end result: They are so beautiful, so representative of the kids' unique creative abilities!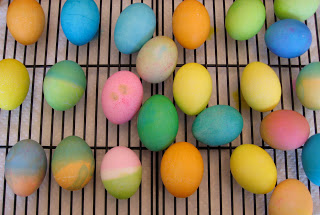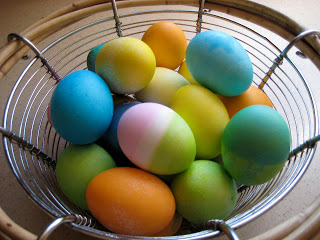 On Easter Sunday, after Mass and a lovely brunch, we went to our neighbor's annual Easter Egg Hunt. They do a marvelous job providing this enjoyment for more than 15 kids, 11 years old and younger (not including the four who are one year old or younger)!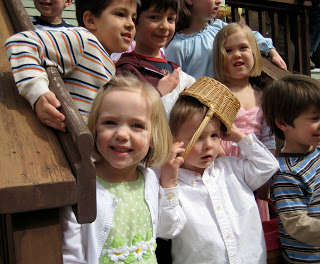 The first time the twins were on grass. They were a little hesitant. Boy didn't like it at all! Girl just sat there looking cute, rather than running all over, which she does indoors.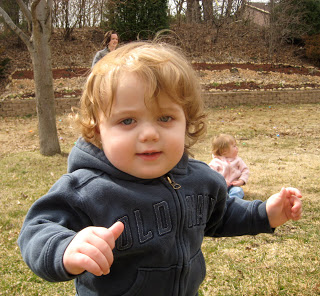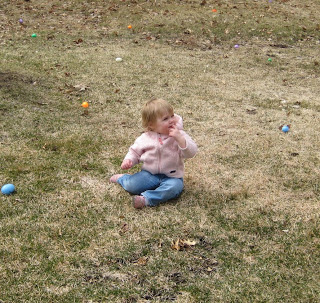 A basket full of eggs—with candy and stickers inside. Also included in the egg hunt are the twelve
Resurrection Eggs
, which, if found, can be redeemed for a bigger prize after the accompanying story is read and explained.
Beautiful yellow tulips (my favorite) graced my dining room table, a little Easter treat for myself!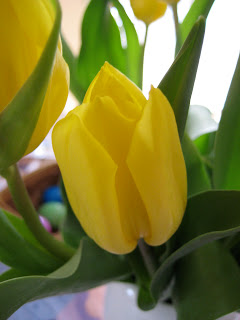 I hope and pray these holy days have blessed you and yours, too, and that you continue to celebrate the glorious Resurrection of our Lord and Savior, Jesus Christ!