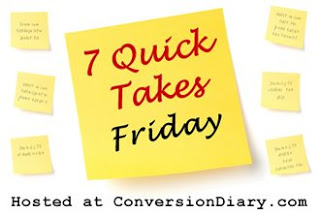 7 Quick Takes Friday—Volume 3
7 Quick Takes Friday—Volume 3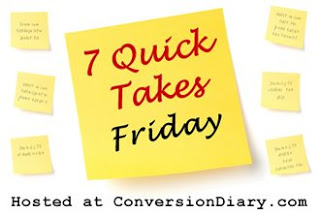 1. This week was our parish's VBS—Set Sail with Saint Patrick and the Holy Trinity. My two eldest daughters had a great time learning about this special saint and his teaching on the Trinity, as well as making crafts, singing songs, playing games, watching live Irish dancing, hearing live Irish music and much more. I continue to be impressed with the quality and Catholicity of our parish's VBS programs.
~~~
2. On Monday, we had some newer friends over for lunch after VBS. Soon, they will be our next-door neighbors. We already are getting to know them a bit, and their eldest daughter will be in Kindergarten with my 5 year old come fall. It was a fun gathering, and our family looks forward to many more with them.
~~~
3. We finished the miniseries North and South this week. It is a BBC production, and it is based on Elizabeth Gaskell's novel. I wish I would have read the book first, but a good friend recommended the miniseries to us, and I'm so glad she did. I really enjoyed the story, and now I look forward to going back and reading the book, as I'm sure I missed plenty in the movie version.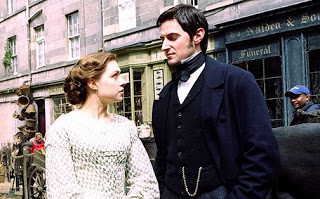 ~~~
4. I have absolutely no knitting progress to report. It has been way too long since I picked up my needles. I hope I remember how! Perhaps this weekend will provide some time …
~~~
5. Speaking of weekends, what are your plans? We are attending a wedding tonight. Tomorrow is chore and errand day. And …
~~~
6. … Sunday is a BIG day of celebrating in our house. It's not only Father's Day but also my husband's birthday … and we can't forget the first day of summer! =) The trio and I are in the midst of making plans and finishing up gifts for the special man in all of our lives.
~~~
7. Lastly, here is a photo I thought I'd share with you. It's of my third daughter at the recent Baptism of our nephew. She is sitting on the bottom of the sanctuary steps, just below where the Blessed Mother's statue was positioned throughout the month of May. In this photo, she is pointing and looking up to her. This darling daughter is as sweet as the picture portrays. She is the gentlest, most tender child of my gang. A dear, dear girl indeed!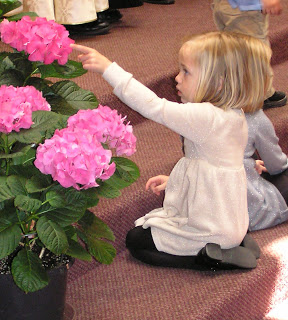 Have a wonderful weekend! And for more quick takes, visit
here
.