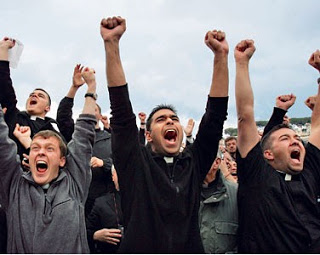 Year for Priests
Year for Priests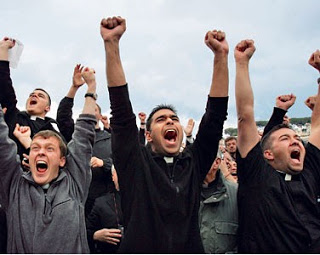 It seems urgent to recover that awareness that has always been at the heart of the Church's mission, which impels priests to be present, identifiable and recognizable both for their judgement of faith, for their personal virtues as well as for the habit, in the contexts of culture and of charity. —His Holiness Benedict XVI—
Have you heard? You probably have, but in case you haven't …
Pope Benedict XVI declared a "Year for Priests" beginning June 19, and concluding with an international gathering of priests with him in Rome next year. The theme is Faithfulness of Christ, Faithfulness of Priests. With the announcement of this Year for Priests, the Pope has declared St. John Vianney the Universal Patron of Priests on the occasion of the 150th anniversary of the death of the Curé d'Ars.
Cardinal Claudio Hummes, prefect of the Congregation for Clergy, hopes that "this may be a time of grace that will produce great apostolic fruit, especially of fidelity and intense renewal in the work of the ministry."
When I read this announcement in our archdiocese's newspaper a couple weeks ago, and more about it in some e-mails, I was thrilled! I have known so many good priests in my lifetime. They lead such quiet, prayerful and service-filled lives. They are at the frontlines of defending our Catholic faith. They are faithful to their call, and they love Our Lord Jesus, His Mother and His Church with all their hearts. At a time when our culture is in such moral disarray, and there is such attack on the Catholic Church, Christianity in general, and their specific vocation as priests, I think it is a wise and beautiful move on the Pope's part to dedicate this year to them.
We must pray for our priests now more than ever! They.need.us. to do that for them. And we must pray for our seminarians studying and preparing to become future priests. May these men always feel secure in their vocation, supported by those whom they shepherd, and passionate about growing in holiness, truth and wisdom. Let us cheer them on and be proud of them, not only in our hearts but in how we communicate our love for them to all the world.
God bless our priests! Amen.