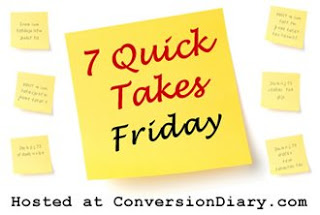 7 Quick Takes Friday—Volume 4
7 Quick Takes Friday—Volume 4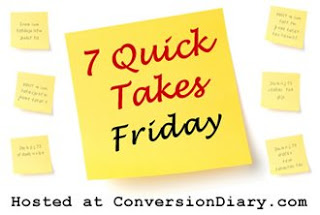 1. Monday (June 29) closed the Year of St. Paul. And with it came a very wonderful designation for the Cathedral of St. Paul in St. Paul, Minnesota. The Vatican named it as the first national shrine in honor of the Apostle Paul. It is the first national shrine in the State of Minnesota and the only national shrine in North America dedicated to honor St. Paul the Apostle.
According to canon (church) law, "The term shrine signifies a church or other sacred place to which the faithful make pilgrimages for a particular pious reason with the approval of the local ordinary (bishop)."
For more information, read
here
.
~~~
2. With the close of the Jubilee Year to the Apostle Paul, I reread Pope Benedict XVI's quote announcing this year back in 2007. He said, "Dear brothers and sisters, as in early times, today too Christ needs apostles ready to sacrifice themselves. He needs witnesses and martyrs like St. Paul. Paul, a former violent persecutor of Christians, when he fell to the ground dazzled by the divine light on the road to Damascus, did not hesitate to change sides to the Crucified One and followed him with out second thoughts. He lived and worked for Christ, for him he suffered and died. How timely his example is today."
How powerful, I think, and profound! Yes, we so desperately need witnesses and martyrs like St. Paul today! How can we each be more bold in defending the faith? Are there even small ways we can be better, stronger, more courageous followers of Christ?
~~~
3. My trio started swimming lessons at the YMCA this week. None of them have ever had lessons, but they all enjoy the water. It was time. So, they are in lessons everyday for the next two weeks. They are lovin' it!
~~~
4. We have grass! For three years, we have had a HUGE dead spot in our backyard. It was due to fertilizer that didn't get watered while we were on vacation. It was so hot that the grass burned up! We tried watering, hoping it would grow back. Nope. We tilled it and planted grass seed. No luck. Finally, we had it re-sod. And now it looks good again. Ah, just in time to move. Oh well.
~~~
5. Last summer when we still didn't have grass, our neighbor asked if we wanted to plant pumpkin seeds (kind of as a joke). We agreed. And so last summer, we had a pumpkin patch in our backyard. By fall, we had more than enough pumpkins to give each child in our neighborhood one (and at the time, there were 16 kids on our block)!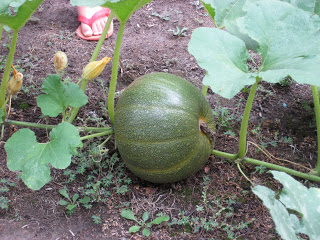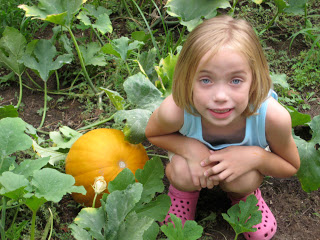 ~~~
6. In the spirit of this Independence Day, I found this quote from Pope John Paul II on patriotism that is worth sharing:
Patriotism is a love for everything to do with our native land: its history, its traditions, its language, its natural features. It is a love which extends also to the works of our compatriots and the fruits of their genius. Every danger that threatens the overall good of our native land becomes an occasion to demonstrate this love.
—John Paul II (Memory and Identity, 65-66)—
~~~
7. And I also thought I'd share something my husband designed for a 2008 election day button design contest. Can you see what it is?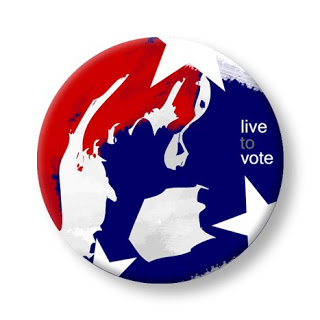 Happy 4th! May God bless America!
For more quick takes, go
here
.