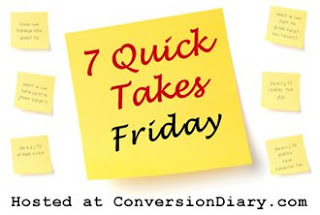 7 Quick Takes Friday—Volume 5
7 Quick Takes Friday—Volume 5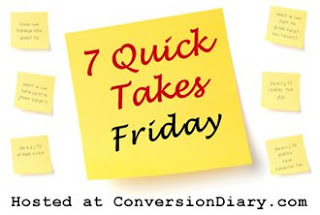 1. This is my 100th post! I believe it is cause for celebration. Don't you agree? Before I began this adventure in December 2008, I asked a
friend
, "What would I write about?" And look at me now, 100 posts later! I guess I have plenty to write about … I have found this place to be one where I can journal my thoughts, ask questions, share ideas, profess my faith and give family updates. I never would have dreamed of meeting so many fabulous women who are inspiring in their faith, motherhood and creativity. I am grateful for this unique type of friendship that we share. In honor of this 100th post, I will pray a Rosary for all of you who visit me and whom I visit, too. I am happy we can encourage and pray for each other along life's journey.
***
2. Yesterday was a momentous day in our family. We said "goodbye" to our little boy's curls! But we said "hello" to this cuteness: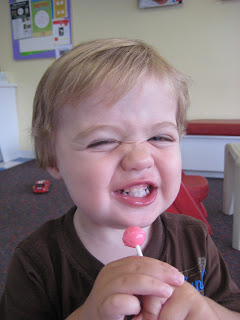 I can't get over how different, how big he looks now! I loved the curls, and it was sad to see them go. But I really love the way he looks so *boy* now! It's so much fun having a little boy. I love it more than I ever thought I would …
***
3. I made my decision. I am going to homeschool my four-year-old in preschool this fall. It was a hard decision for me. My other girls went to preschool, and I seem to think everything needs to be equal among them. But this decision is best for everyone, including me. I think our mornings will be less hectic, and therefore I will be less stressed! There will be less running around, too …
Regan
suggested the Little Saints Preschool Program, and then a friend IRL told me she had used it, too. I figured that after two trustworthy friends suggested it, I should at least look at it. So, I did, and I like it. My IRL friend is letting me borrow her copy for the school year! I will probably not do every game and art project, because I just can't, but I will add practicing letters and numbers. Now that the decision is made, I am really excited about it! I am especially looking forward to the one-on-one time with my daughter.
***
4. This week I had the opportunity to defend the Catholic faith. It made me a little nervous to be so outspoken, but it was one of those situations where I had to say something. The night after I spoke out, I experienced some doubt, but I think it was the enemy putting it in my head, saying, "You're not an expert. What do you know?" But I prayed through it, and I received confirmation that what I said was good and honest and that I spoke in a caring way. I may not be an expert, but I do know the Truth. I also know that when our Pope is being disrespected, it is important to say something. I pray for those to whom I defended the Faith, that their hearts are open to the Holy Spirit's guidance of knowing and embracing the real and beautiful Truth of our Catholic faith.
***
5. My six-year-old lost her 5th tooth this week. But it was accidently thrown away, as we were cleaning up after dinner. She was completely distraught. She worried all night that the Tooth Fairy wouldn't visit, because her tooth had been thrown out … I told her to write the Tooth Fairy a note, explaining what had happened, and I tried to reassure her that she wasn't the first girl this had happened to. Her note read:
Dear Tooth Fairy,
I lost a tooth today.
P.S. What is your name?
P.P.S. Someone threw the tooth in the garbage.
I thought her note was so cute, but asking for the Tooth Fairy's name??? I had never heard of that. Isn't her name Tooth Fairy? When I asked her about it, she said, "Well, [so-and-so's] Tooth Fairy's name is Shimmer … Oh boy, I thought, I have to compete with Shimmer …
So, her Tooth Fairy wrote her a note back. I won't retype it all here, but I will tell you that her name is Bella Simone (thanks to my mom and I thumbing through the Pottery Barn catalog that night). Pretty fancy, huh?! I've determined that there's no need for baby name books anymore; one probably could name their entire family just by looking through the PB catalogs! LOL
Oh, one more thing … It boggles my mind how we got into the Tooth Fairy when we don't even *do* Santa! Hmmm … Go figure!
***
6. As a final activity on our last stay-cation, we went to a beautiful zoo and park this week. The vintage carousel rides were free, we viewed the butterfly garden and saw a bunch of animals. We even picnicked in this wonderful spot. It was a lovely day with cooler temps; perfect!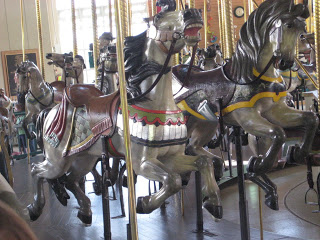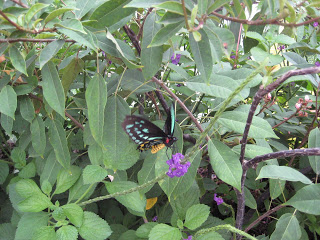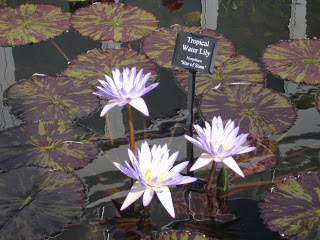 ***
7. We have a packed weekend ahead of us … I look at my September calendar, and it's wide open. I hope it stays that way, as August has been a lot busier than I thought it would be. Do you have a good way of managing the busyness in your family's life? Do you keep activities to a certain number per week? How do you decide what to do and what not to do? I'd love to know what works for your family, so that as we enter the fall season, perhaps I can manage the number of our commitments a little bit better …