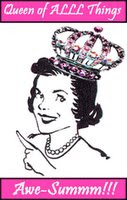 Queen for a Day
Queen for a Day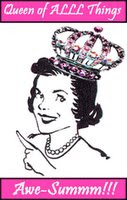 I'm always so honored when someone tags me for a meme or award … That they'd even think of lil 'ol me, well, it just makes my day! So, I do try and answer them, even if it's not very timely …
For this meme …
1. List seven things that make you awe-summm!
2. Pass the award onto seven bloggers you read religiously.
3. Tag those seven bloggers.
My list of things that make me awe-summm:
1. I am created in the image and likeness of God.
2. I am loved unconditionally by Him, too.
3. I love being Catholic.
4. I made homemade chocolate waffles with real whipped cream for my 4-year-old daughter's birthday. Oh, and homemade frosting for the cupcakes, too. (At least my mom told me that I was awesome, after that day =)
5. I had five children in five years. (I don't think too many people can claim that!)
6. I am an at-home mother to all these children … and I'm delighted to be so!
7. Even on bad days, I wouldn't trade this life for anything. To me, having that deep-rooted joy and hope is the essence of faith in God, and that is such an awesome gift!
Here are seven blogs that I read regularly … Some I've read for awhile now, and some are fairly new to me. But all of them are really awe-summm:
3.
made for JOY
(pretty new blogger but she's also a friend of mine IRL)
Thanks, Christine, for tagging me! This was fun!