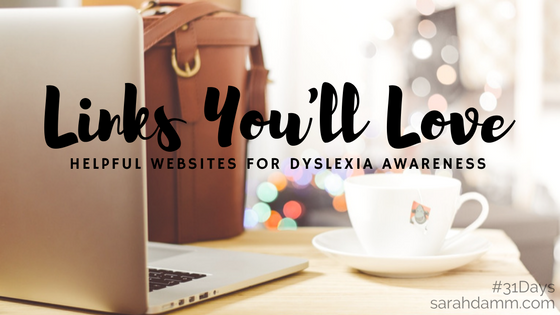 Day 18: #31 Days—Links You'll Love
Day 18: #31 Days—Links You'll Love
Today, I thought I'd just share some helpful links I've found on the topic of Dyslexia. This is certainly not an exhaustive list, but just a handful of websites I seem to return to again and again.
Bookshare—A great resource for audiobooks
Decoding Dyslexia—A parent-led grassroots movement for Dyslexia + there you can find state chapters for more localized support
IDA—Home of the International Dyslexia Association has lots of research and information
Learning Ally—Not only a wealth of information about making education accessible for everyone but also a place to discover countless audiobooks to enjoy
Understood—Practical information about learning and attention issues
Do you have some favorite websites for information and encouragement in this journey with Dyslexia? If so, please share them in the comments.