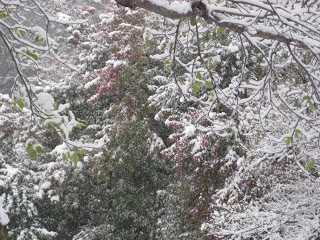 Outside My Window
Outside My Window
This was the scene outside my window this morning, and the snow is just starting to trail off now (3 p.m.) It's the really heavy, wet snow that we usually get in March, not October!
We didn't have school today (not because of the snow but because of Columbus Day). So, we went over to visit some
friends
. They were willing to rearrange their homeschool schedule a bit, so that the kids could play … And they even went sledding!
Plans for the rest of the week: Kind of a busy one ahead. Irish dance and women's group tonight … A scheduled haircut and fall party later in the week … A wedding to attend Saturday night!
I guess this is only a partial daybook, but it'll have to do for this snowy day!