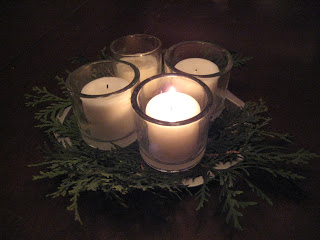 'Tis a Gift to Be Simple
'Tis a Gift to Be Simple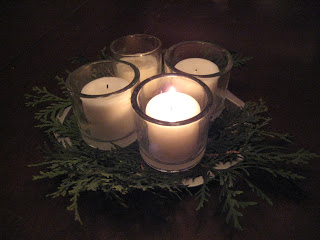 A rush of gratitude came upon me, as I started realizing the lessons I am already learning this Advent. (And it's only day 4!)
My desire to keep this season simple and peaceful remains the same. But hopefully my heart and mind are finally starting to catch up with this overall goal … I realized that I have been so focused on keeping Advent free from cluttered busyness, but it was all in the wrong context. Ultimately, I think I was trying to create a perfect atmosphere. And that attempt at perfection always seems to make things more complicated than they need to be.
God knew that the direction I was going was not really the direction He wanted me to be going. And since He knows me better than I know myself, He also knew that deep down I didn't want to be going in this direction either. Not that I was going in the wrong direction, but perhaps I was a little off track =)
So, He gave me a wake-up call in the form of a back-ordered Advent wreath. And I couldn't be more grateful. Now. It has taken me awhile to realize all of this, and there is a piece of me that still wants to hang on, but I am slowly letting go and letting Him direct my (and my family's) Advent.
Last night, I had it on my calendar to go to my parish's reconciliation service. But I knew that even though it would be a good thing to attend, the Lord wanted me home with my family. We read the first chapter of
Destination Bethlehem
, followed by two new books to us:
Gingerbread Friends
and
An Orange for Frankie
. I loved it. It was exactly what I was hoping Advent would be filled with. Time together. New stories. Everyone home more often than not.
For the rest of the night, I turned on some classical piano music, sipped tea, and started some decorating. I didn't put it all up. I don't know if I will yet. But I like how it's shaping up so far.
I had enough time to pray with the Magnificat and the Magnificat Advent Companion this morning with my coffee. It was a good way to start the day.
Tonight was a repeat of last night, continuing two of the three books we started. (The gingerbread book was the only one we actually finished the night before =)
Thank you, all, for your thoughtful comments, encouragement and suggestions. They meant so much to me and helped me a great deal. God bless you for your kindness, and may He continue to draw you closer to Himself this Advent.