7 Quick Takes Friday—Volume 6
7 Quick Takes Friday—Volume 6
1. This is a bit early because of my
No-Computer Fridays
fast … I thought about scheduling this to post on Friday, but then I didn't want anyone to think I was cheating =)
***
2. Today we remember what happened one year ago today. We remember my step-dad
Russ
. Today we pray for him:
Eternal rest grant unto him, O Lord; and let perpetual light shine upon him. May he rest in peace. Amen.
***
3. This morning we were greeted with a friendly surprise: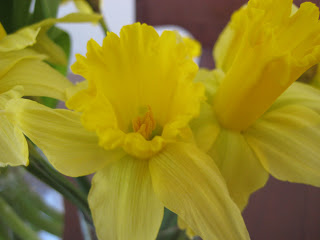 A sneak peek at spring =)
I purchased these cheery tulips and daffodils yesterday at Trader Joe's. They really brighten up our white dining room! The daffodils were completely closed when we went to sleep last night, and this morning, my trio was so delighted by their opening!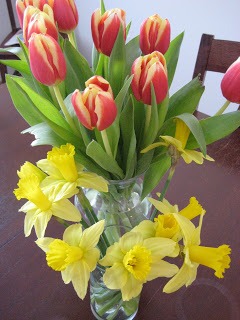 ***
4. The retreat I went on last weekend focused a lot on family relationships and friendship. One key truth that struck me is simple and obvious, but I heard it with new ears, as if for the first time:
My children were specifically created to be raised by me.
The speaker went on to discuss how we will fall short. We are not perfect mothers. But where we fall short might be an area a child needs to grow in, a child may need to see our struggle in order to mature. We can't be it all for them, and they can't have it all.
Family life is fundamentally important ~ how we treat our husbands, children and parents.
Our family is our pathway to sanctification, to Heaven, and we are our family's pathway, too.
***
5. The same speaker also talked a lot about time wasters, things that take us away from our family, and boy, did that get me thinking! Perhaps more on this later (but perhaps not). One thing I do know is that it confirmed my decision to have No-Computer Fridays during Lent!
***
6. A beautiful concept about friendship: Jesus called us friends (John 15:15). That means Jesus expects us to call Him friend, too. Therefore, friendship cannot just be a luxury. The deepest value of friendship is that it prepares us for our friendship with Jesus Christ.
***
7. The last part of our retreat was on trust and suffering. Too much to discuss in a quick-take format. But I hope to share some nuggets of truth on this topic next week, as it is so applicable to the Lenten journey.
Well, that is all for now. Have a very blessed weekend!