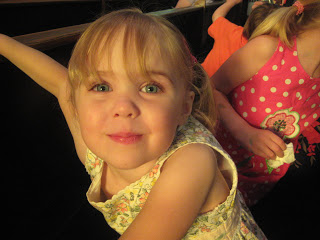 Crowning Our Lady
Crowning Our Lady
Each spring, my daughters' school ends the year with a traditional May Crowning. An honoring of Our Lady. Pledging to her that they will keep up with their daily prayers, attend Mass as often as possible, and dress modestly because it's the right thing to do but also in reparation for those who do not during these warm summer months.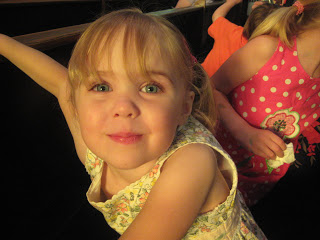 Waiting for my big sisters to process into church. Can I last the entire May Crowning this year? Nope. I made it to the second glorious mystery, and then Dad had to bring me and my brother to the back of church.
It is a very touching and moving evening, in adoration before Our Lord in the Holy Eucharist. The students are incredibly reverent. That is probably the number one reason why we chose this school: because of how they teach and defend our Catholic faith.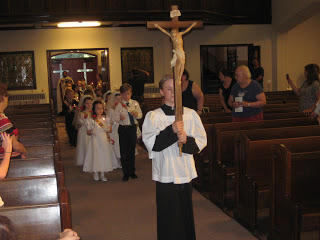 Just before the fifth glorious mystery, the students line up with lit candles and sing Hail, Holy Queen, and two of the first communicants crown the lovely statue of Our Blessed Mother. I tear up each time I witness these children's incredible devotion and respect for her.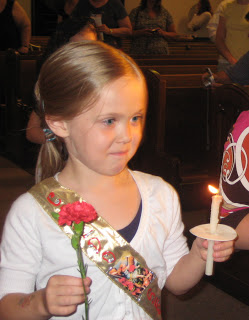 My kinder-girl is officially a first grader. I am so proud of her!
At the end of the ceremony, Father blesses each child, and the eighth grade students receive their diplomas. (This year, there was only one eighth grader. Did I mention this is a small school?)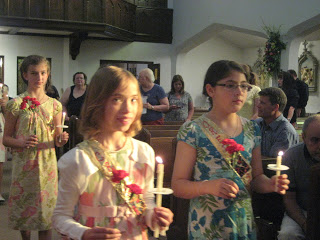 My first grader (left) is now a second grader. She is growing up and becoming such a special, "big" girl!
This May Crowning is a treasured event in our family. Not only does it complete another school year and welcome a new summer. But it also truly portrays what a special and wonderful school our children attend. We are blessed.