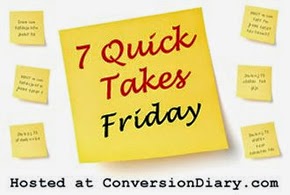 7 Quick Takes :: What's New?
7 Quick Takes :: What's New?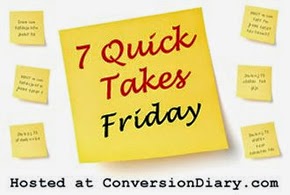 ~1~
I mentioned last week that my husband Greg got a new job. Well, he was in Eau Claire, Wisconsin this week for training. He hasn't had to travel for work in 5 or 6 years, so this week was an adjustment for me and the kids. I decided to stick to a pretty structured schedule, including this cleaning schedule. (Sometimes I just like to follow a plan rather than creating my own, you know?) It kept things flowing and worked fairly well. I am proud of myself for not freaking out when what happened wasn't actually on the schedule. I used it more as a guideline, to keep us moving and grooving through the week. I have to say, "mission accomplished." And I also have to say that we are really glad to see Greg again today!
~2~
Last Saturday, before beginning his new job, Greg gifted me with a day off. I had a wonderful, relaxing day away from the hustle and bustle of family life. I entered the silence of the library's "Quiet Room," and for two hours, I journaled about what's been going on in my heart over the past month (since my silent retreat), and then I planned out our Week-Without-Dad, including 4 workouts at the YMCA and "restorative activities" to nourish and refresh in the midst of crazy-busy. (I didn't get to all of my refreshing activities, but at least I now have a quality list from which to draw in the future. I had always meant to make a list like this.) Afterward, I went to Panera for lunch with a good book. And then I went to the paint store to get samples for a future painting project. It was a heavenly break, and it put me in the right frame of mine for being solo this week. Thanks, Greg!
~3~
I learned the hard way why God gave us the third commandment: Remember to keep holy the Lord's Day. I had ordered some new furniture (working on my nesting-inspired home projects), and it arrived last week. Nothing major, but a couple small cabinet-type pieces that I was hoping Greg could put together before he went out of town, so I could work on my projects, while he was gone. Well, he wasn't super excited to put them together on Sunday (and rightly so). But I told him I'd help him pack, if he quickly put these cabinets together for me. And so he reluctantly agreed. Well, the first one that he opened was damaged, and he ended up spending his time putting it all back in the box and calling Target to get a replacement. By this point, there was no time for more work, and that put me in a bad mood. And I couldn't shake it. My disappointment ruined my whole Sunday, which was so dumb. If we (I) would have remained true to God's command, a lot of crabbiness could have been avoided. I guess I learned a lesson in the end: it's really, really not a good idea to do unnecessary work on the Sabbath. Trust God on this one!
~4~
Have you ever raised a Monarch Butterfly at home? We did this for the very first time a couple years ago. I have a neighbor who is an expert. She got us started, and it was such a magnificent project for my children to experience. Really, all of us were blown away by the opportunity to help bring a butterfly into the world!
Well, this summer, instead of raising butterflies from the egg stage, the kids found some already-grown caterpillars, and we raised them to full butterfly status this week!
What a joy to experience this with my children! If you ever have the opportunity to do this at home, I highly recommend it!
~5~
This week I hosted my first-ever blog giveaway! It is currently going on (through tonight at midnight), so please enter, if you haven't done so already. The giveaway is for a fabulous book called Catholic Family Fun: A Guide for the Adventurous, Overwhelmed, Creative, or Clueless by Sarah A. Reinhard. You can read my review and enter here.
Speaking of giveaways, there also is an amazing Summer Fun giveaway going on right now at CatholicMom.com! But hurry, this one also ends at midnight tonight! I would be happy with any of the prizes, but I especially have my eye on some of the books and that adorable Madonna and Child softie!
~7~
At the beginning of the new year, when many people pick a "word" for the year, I found myself drawn to the word hope. I haven't written about this at all, but it has been a theme for me in 2014.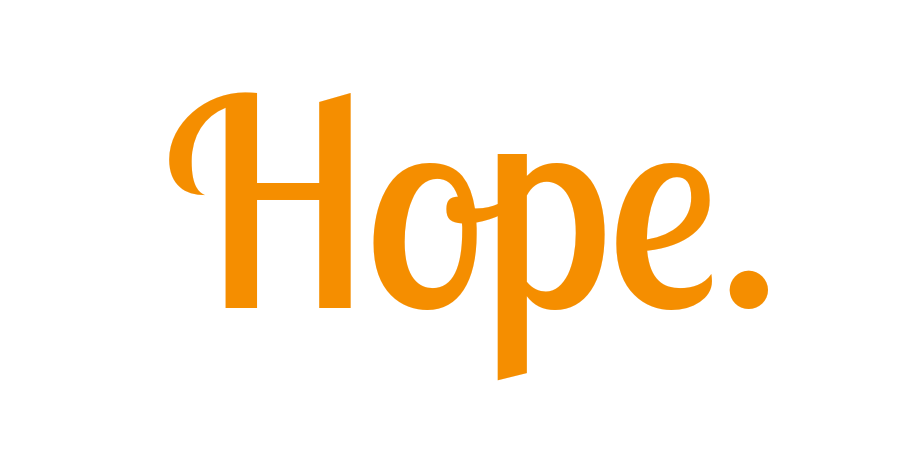 It's a theme for me, because I struggle with a lack of hope. But over the past seven months or so, I have received many beautiful reminders of the importance, the necessity of hope. These reminders are my glimmers of hope, my moments of hope, and I treasure them, because they don't always last long.
I recently discovered Hope*ologie, a membership site that encourages its "hope*ologists" to intentionally turn toward hope no matter how things appear. Each month, the theme changes and members receive hand-lettered printouts to display, articles about family, home and personal renewal, podcasts, tutorials and more. It is delightful and peaceful, and after one month, I am encouraged that it will help me with my struggle with hope. I would say it is Christian, but it is not overly spiritual, in order to reach a broader audience.
And there you have it! Another week of Quick Takes! I hope you have a happy weekend! And I'll see you again soon, I hope!
For more Quick Takes, please visit Carolyn at Svellerella, who is hosting for Jen today.