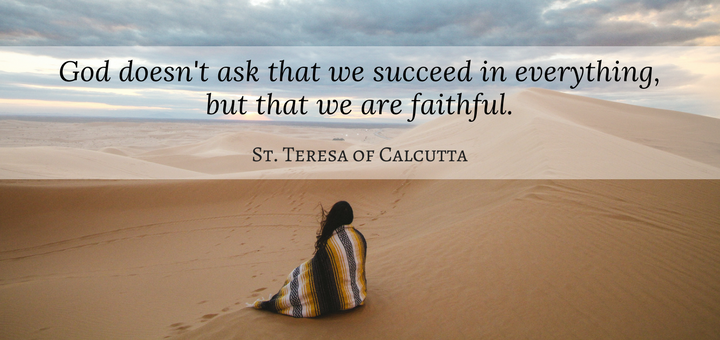 Lenten Weariness: How to Avoid the Temptation to Quit
Lenten Weariness: How to Avoid the Temptation to Quit
It was January 1, and I was gung-ho to begin my New Year's resolution. My plan was to start a rigorous elimination diet in the hope of feeling better. I purchased ingredients to make healthy meals, and I set aside time to cook for the week.
I knew it was going to be hard, but I reached a tipping point in my chronic illness and knew I had to try more drastic measures. After a week, I started to regain some energy. I repeated the tasks of grocery shopping and cooking for myself the next week, and I felt encouraged.
Then, "life" got in the way of my plans. A couple of my children got sick. A couple others had projects and activities that required my attention. I was needed elsewhere. I ran out of all of those nourishing meals, and I didn't have much time to cook another batch. I needed grab-and-go options, which really weren't part of my plan.
Frustrated and tired, I lost my motivation. I felt discouraged and lonely. How long did my New Year's resolution last? About three weeks. Sigh.
It was hard to get back on track, because I feared failure again. I started looking forward to Lent, which was my chance to start over.
For Lent, I decided to approach my resolution differently. As I reflected on my three weeks in New Year's resolution mode, I noticed that I was relying solely on myself to succeed, and I wasn't allowing any room for flexibility, patience, or God's grace.
We are one week into Lent, and perhaps your Lenten resolution feels a lot like my New Year's one. It's been only eight days, and already you think you've failed Lent.
I know I had the temptation to think like a failure on the eve of Ash Wednesday when, after resolving to eliminate grains for Lent, I was faced with the reality of eating oatmeal for dinner. So, yes, not even a day into Lent, and already I had fallen off my Lenten plan!
But what I immediately realized was how my response was so vastly different from how I reacted when I took a detour from my New Year's resolution. This Lent, I made the decision to give up the swirling negative thoughts and the "shoulds" that talk down to me. For this attempt at resolution, I was going to let Jesus be my guide.
To read the rest of my reflection, including some helpful Scripture passages, please click over to CatholicMom.com.