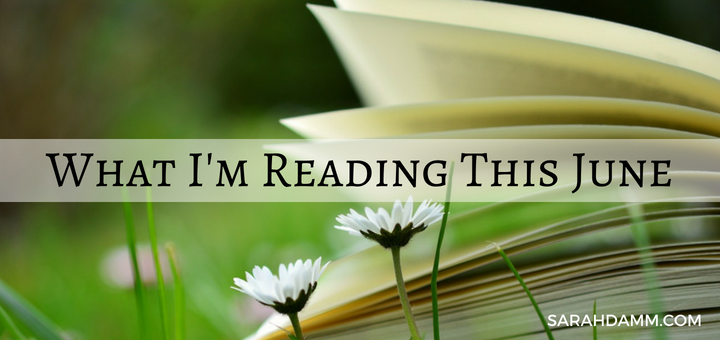 An Open Book: What I'm Reading This June
An Open Book: What I'm Reading This June
It's been awhile since we've had a nice chat about books. The last time I shared what I've been reading was back in October. For some reason, 2018 has not started out as my year for reading an impressive list of books. In fact, according to my Goodreads 2018 Reading Challenge, I've only read three books in five months. (Yikes!)
The thing is, I love books, and I love to read. And now that it is summer, and our family schedule is more relaxed, I hope to get back to what I love and add a few more to my list of completed books.
So, to keep me a little more accountable, I am joining Carolyn Astfalk and friends for this month's An Open Book feature on CatholicMom.com. Here's what I'm reading this June:
Current Reads
Honeysuckle Dreams by Denise Hunter is the second novel in the Blue Ridge Romance series. It is about Brady Collins, a newly single dad who finds himself fighting his son's maternal grandparents for custody, after his ex-wife passes away. When Brady's attorney mistakenly thinks he is engaged, Brady realizes he will go to great lengths to keep his son. Meanwhile, local radio host Hope Daniels has been content with the single life, but the dream of marriage and family remains close to her heart. She cannot help but see that she can have it and help her friend Brady's custody battle, by agreeing to marry him. Will the friendship Brady and Hope share grow into much more, or will their arrangement remain a marriage of mere convenience?
GraceLaced is a beautiful devotional by artist and author Ruth Chou Simons. It is organized by the natural seasons—winter, spring, summer, and fall—that can easily correspond to the seasons of our hearts. With gorgeous watercolor paintings and lovely hand lettering, Ruth encourages readers in any season of life to tether themselves to God's faithful promises. GraceLaced invites us to rest in who God is, rehearse the truths He says about us, respond in faith to those truths, and remember God's provision to sustain us over and over again.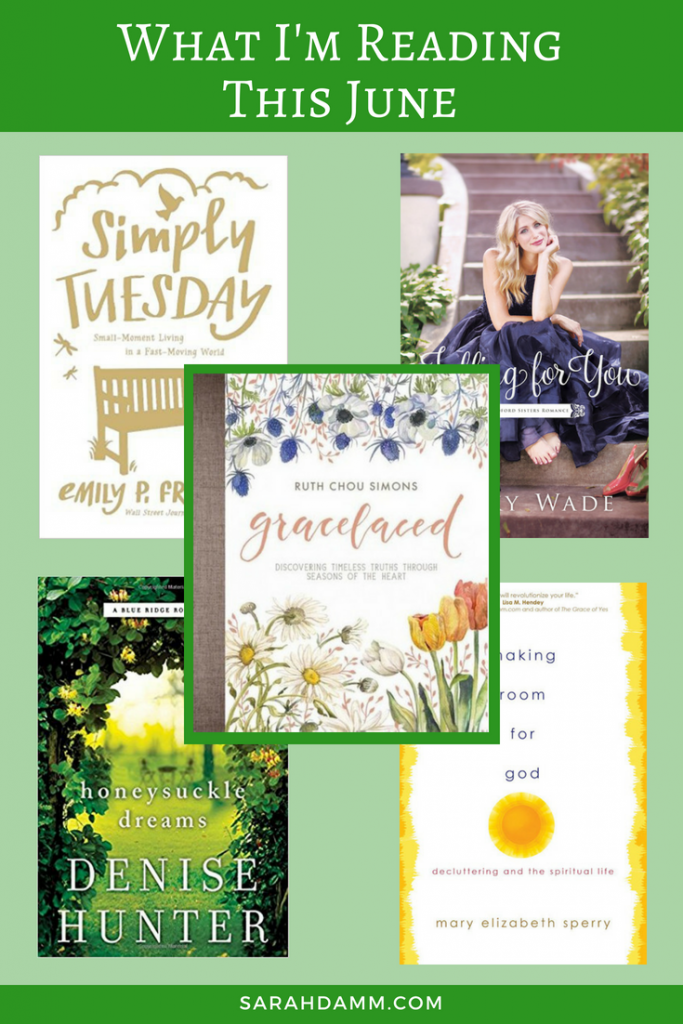 Up Next
Falling for You by Becky Wade is the second novel in the Bradford Sisters Romance series. It is about Willow Bradford, a gorgeous model who is on hiatus while she temporarily runs her family's inn. But then she runs into NFL quarterback Corbin Stewart, who broke her heart and hopes to win her back. Complete with romance and mystery, I cannot wait to read this book.
Making Room for God: Decluttering and the Spiritual Life by Mary Elizabeth Sperry is the first organization book from a Catholic perspective. In it, she explores the relationship between our stuff and our Catholic beliefs. Each chapter includes details of the author's own journey (and struggle) with decluttering, to encourage us along the way. While Mary draws wisdom from the Bible, liturgy, Fathers of the Church, lives of the saints, and Church teachings, she also offers practical elements to help us declutter our homes once and for all.
Simply Tuesday: Small-Moment Living in a Fast-Moving World Emily P. Freeman invites readers to be present to real life happenings in small moments on the most ordinary day of the week: Tuesday. She encourages us to stop dreading small beginnings, embrace today's work, find contentment in the present moment, let go of competition, and learn to breath again. Just reading the very beginning, Emily sounds like a Protestant version of St. Therese. I wonder if she's read The Story of a Soul.
What have you been reading? What do you look forward to reading this June? Please share in the comments below, as I am always looking for good recommendations. And if you are on Goodreads, let's connect there to keep the book conversation going.
To read more Open Book posts from other avid readers, please visit CatholicMom.com or Carolyn's blog.
Happy Reading!