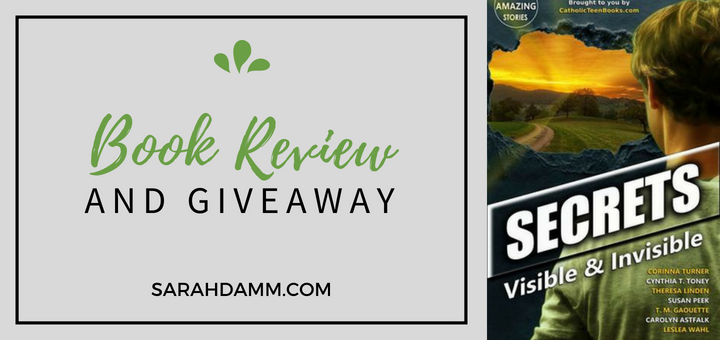 "Secrets" Blog Tour Stops Here (and a Giveaway!)
"Secrets" Blog Tour Stops Here (and a Giveaway!)
"For nothing is hid that shall not be made manifest, nor anything secret that shall not be known and come to light." (Luke 8:17)
I am so honored to be part of the blog tour for Secrets: Visible and Invisible, a new short-story anthology for Catholic teens from some of the best Catholic fiction authors around. There is definitely a little something for everyone in this collection. Each of the seven short stories is written in a unique genre and style—from dystopian to historical and contemporary fiction—but all of them contain an element of suspense.
"The Underappreciated Virtues of Rusty Old Bicycles" by Corinna Turner is set in a dystopian future. In this fast-paced story, an innocent picnic turns deadly. In "Recreation" by Cynthia T. Toney, Elijah knows nothing of an elderly stranger's secret past, until her disappearance changes everything. "The Portrait of the Fire Starters" by Theresa Linden tells the story of a mysterious, ever-changing painting that alarms a group of teens. In "On the Brink of Hell" by Susan Peek, a cannonball takes Dario's legs, but will he lose his soul, too? "Sister Francesca" by T.M. Gaouette begins with the arrival of a mysterious girl. She ends of challenging–and changing—everything about Jason's life. "Behind the Wheel" by Carolyn Astfalk is about an unlicensed driver and his dad's truck. What could possibly go wrong? "More Precious Than Gold" by Leslea Wahl is an old tale of murder and forbidden love that leads to a modern-day treasure hunt.
While the seven authors tell vastly different stories, each of them masterfully develops interesting characters and meaningful storylines. Faith is thoughtfully woven into the plots that also creatively incorporate mystery, intrigue, heart-felt emotion, and even a little innocent romance.
Fans of these Catholic teen authors will appreciate reading new stories about familiar characters. And readers new to Catholic teen fiction will be eager to read more in full-length novels by these talented authors.
What Others are Saying About Secrets
"This anthology of short stories for Catholic teenagers is a true literary treasure. It provides genres for every type of reader, each so well written that the reader is invited to fully escape into many different worlds and places … But within these different settings, there is one uniting comfort: God is always there … The hope that comes through Catholicism and Jesus prevails in each vignette, and yet there is still heavy doses of drama, suspense and tactful violence."
—Regina Lordan, Catholic News Service
"This anthology of Catholic fiction for teens will introduce readers to seven diverse authors. Many of these stories, in a variety of genres but linked by a common theme, offer a peek at characters from full-length novels. Readers already acquainted with these authors will enjoy new perspectives on favorite characters. Kudos to CatholicTeenBooks.com and these seven authors for dreaming up this excellent collection."
—Barb Szyszkiewicz, OFS, CatholicMom.com and Today's Catholic Teacher
​"Featuring seven fabulous stories from top authors in Catholic teen fiction, Secrets is as entertaining as it is relevant and thought-provoking. It's sure to capture your imagination, move your emotions, and stir your soul. Teens and adults alike are sure to enjoy the variety of tales, which are cleverly united by themes of secrets and faith. Packed with powerful, meaningful, memorable stories, this anthology is so good, you won't be able to keep Secrets to yourself!"
—Therese Heckenkamp, author of Frozen Footprints
​"I knew I was in for some great reading when I picked up this collection. What I was not prepared for was how exceptional this collection was. . . . Every story was a remarkable story. Some of the stories were so good, I immediately went back and reread just that story. And then when I finished the book, I reread the whole thing again a few days later. I have a great deal of respect for the seven authors who contributed to this series. And even more so after reading their pieces in this collection."
—Steven R. McEvoy, Book Reviews & More
"Know a teen reader looking for a book filled with the unexpected? Look no further than Secrets: Visible & Invisible an anthology of 7 short stories from CatholicTeenBooks.com. From tales of bicycles to cars and even a saint standing on the threshold of the "dark side", there's plenty here for teen readers to sink their teeth into."
—Pete Socks, The Catholic Book Blogger
Time for a Giveaway
The Secrets blog tour features 17 stops! And there is a tour-wide giveaway for a paperback copy of the book! To enter, all you have to do is fill out the Rafflecopter form below.
For more information about Secrets and other books for Catholic teens, as well as to find out where the blog tour stops next, please visit the Catholic Teen Books website. Also, check out the book trailer for an easy way to share Secrets with friends.