5 Catholic Novels to Read This Summer
5 Catholic Novels to Read This Summer
As August begins, are you planning one last road trip or weekend getaway to the beach or cabin?
Before the kids head back to school, we often desire to soak up the sun and savor the last days of summer. Even if we don't have school-aged children, we can still have a back-to-school mindset as fall approaches. For autumn seems to be the season when we return to a more organized routine, while summer permits more leisurely activities and lingering moments. So, before we get back to "normal," we jump at the chance to enjoy these last weeks of summer refreshment with one last getaway.
If you find yourself packing your bags for an August adventure, may I suggest including a good book to enjoy? And instead of just grabbing the latest bestseller, why not consider reading a book that is not only captivating but also nourishing of our Catholic Faith?
Over the last several years, I have had the pleasure of connecting with a variety of authors who are committed to creating quality Catholic fiction. These authors are smart, innovative, and passionate about storytelling. And in turn, they have published some of the best and brightest novels around. These authors offer something for everyone, no matter what your favorite genre. And I just know you will be pleasantly surprised with their creativity and imagination, while staying true to the Catholic Faith.
So, along with your swimsuit, towel, and sunscreen, pack one of these Catholic novels for your end-of-summer getaway.
Fairytale Revisited
When you were a little girl, did you enjoy Snow White and other princess fairytales? If so, you will appreciate The Shadow of the Bear by Regina Doman, the first in a series of retold fairytales. It is set in modern-day New York City. Blanche and Rose are sisters in high school, and they meet a young man named Bear, who rescues their mom from a swerving car. He looks to be poor and even a bit shady, but they soon discover there is goodness hidden beneath his dirty clothes and matted dreadlocks. He continues to visit them frequently, and friendship blossoms.
As the story progresses, mystery unfolds. This fast-paced novel includes action, adventure, a sweet romance, and honest portrayals of good versus evil.
Biblical Fiction
Have you wanted to dig deeper into the New Testament stories but haven't known quite how to do it? May I suggest reading The Well, the debut novel by Stephanie Landsem? Set in the small Samaritan village of Sychar, The Well is about a young girl named Mara who is shunned from the community. This is because of the sinful past of her mother, Nava, who is the woman at the well found in John 4:1-42.
Life begins to change in Sychar when two men arrive. The first man, Shem, is wealthy, worldly, and drawn to Mara's beauty. Then, there is Jesus, who miraculously cures Nava of her depressive state and forgives her of her sins. Nava's encounter with Jesus causes quite the uprising in the small Samaritan town, and the people still want to stone her for her past actions. Mara thinks the best way to prevent the stoning is to ask Jesus to return. So, she sets out to find Jesus, with the help of Shem, and their journey brings them more adventure, love, heartache, and sacrifice than either of them could imagine.
While this story is fictional, the Biblical narrative remains intact. Landsem's creativity allows us to enter the Biblical scene and draws us closer to Jesus' authentic love.
Tasteful Romance
If you enjoy a good romance, you will love Stay With Me by Carolyn Astfalk. You will love it even more, because it begins in a grocery store. Rebecca is shopping with her niece and nephew, and Chris is stocking shelves. Their encounter leads to a first date and a delightful courtship.
As they get to know one another, they realize they come from vastly different backgrounds. Chris is a convert to Catholicism and comes from an intact, loving family. Rebecca is an innocent young woman who is on her own for the first time, away from her overbearing father. While they clearly care for one another, can they come together on matters of trust and faith? Can their true love for each other sustain them through mistakes and misgivings?
Stay With Me is a fun, enjoyable read that has you rooting for Chris and Rebecca all the way until the very last page. It also is an honest look at dating, courtship, human sexuality, and marriage. It puts names, faces, and emotions to the Catholic Church's teaching on human sexuality that St. John Paul II coined as "Theology of the Body".
Mystery and Suspense
If you are looking for a page-turner that keeps you on the edge of your beach chair, then look no further than Anyone But Him by Theresa Linden. What would it feel like to wake up one day and not remember marrying your husband? And what if all you recalled were negative feelings you had for him? This is what happens to Caitlyn Summer who wakes up one morning and only remembers her disdain for Jarrett West. How could she possibly have married him?
As the story progresses, we discover why these two are together in the first place, how they rekindle their love, and how nothing is impossible for God. Anyone But Him is brimming with suspense and mystery. This is the type of novel that you can't help but read "just one more page," even late into the night!
In addition, Linden weaves the Catholic Faith into the storyline beautifully, and moral topics, including abortion, are carefully and thoughtfully articulated.
Recreated Classic
If you grew up loving classic novels, you will be pleasantly surprised by Unclaimed: The Memoirs of Jane E, Friendless Orphan by Erin McCole Cupp. It is the first of three installments in a trilogy that takes the timeless classic, Jane Eyre by Charlotte Bronte, on a futuristic spin.
When we first meet Jane E, she is an unclaimed embryo in an unloving foster home setting. Upon seeking emancipation, she is taken halfway around the world where conditions are grueling. Jane E, then, settles into yet another world—a hidden residence underneath the desert—where an absentee employer hires her to tutor a child he has taken in.
Even if you haven't read Jane Eyre, you will appreciate Unclaimed, for Jane E is heroic and persevering. She faces the challenges that come her way with acceptance, grace, and determination.
Time to Rest and Read
While there are many more Catholic novels to enjoy, this is a great place to start. Stories with Catholic themes are a wonderful way to weave our faith into the everyday, ordinary parts of our day…and our vacation. They inspire us in our own faith journey and are also an easy way to share our faith with others.
Have you read a really great novel by a Catholic author that we could add to our list? If so, please share it with us in the comments.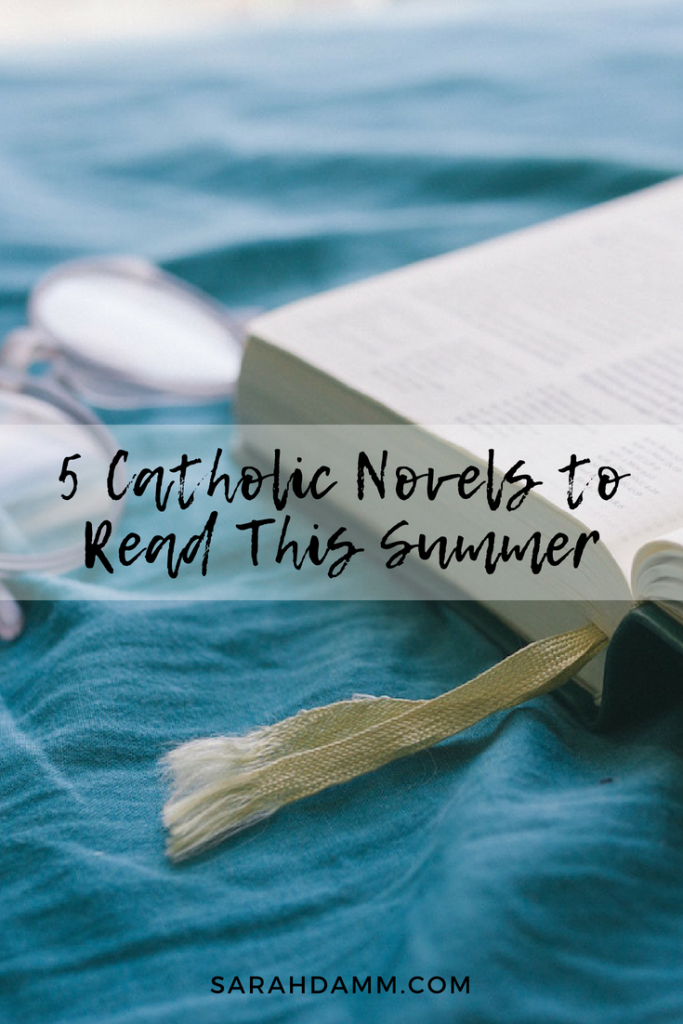 ---
This article first appeared on the Blessed Is She blog. Photo: Unsplash