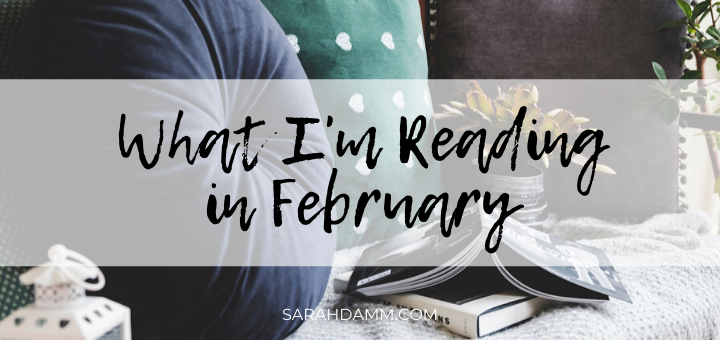 An Open Book: What I'm Reading in February
An Open Book: What I'm Reading in February
In junior high school, I took a speed reading class. I remember sitting in class and practicing the various techniques that would surely help me read faster (and better) than average. In the end, though, I must have failed, because today, I am anything but a speed reader. I am actually quite slow.
And yet, reading remains one of my favorite past times.
Sometimes, I am perfectly fine with being a slow reader, and other times, I am quite embarrassed to admit it. Especially when I see other readers plowing through books, and I wonder, "How can they possibly read that many books in such a short amount of time?"
Emily P. Freeman, an author that I greatly admire, recently gave an excellent reading tip in her monthly newsletter. She wrote:
As part of [my morning] routine, I set a timer on my phone for 15 minutes and read a non-fiction book until the timer goes off. It's helped to curb a wandering mind and fidgety hands. The timer keeps me on task and focused so I don't get up in the middle of reading.

So far in January I have finished three books just from those 15 minute sessions and it is grounding and lovely and I'm officially hooked.
This month, I am implementing Emily's tip into my own routine. I plan on taking my 15 minutes per day at the end of my prayer time or in the evening, before I go to sleep. I will let you know how it goes!
Here's what I'm reading this February
I technically read an advanced copy of The Solid Grounds Coffee Company by Carla Laureano in January. But since it just debuted on yesterday (Feb. 4), I thought I'd mention it in my February book list. It is the third book in The Saturday Night Supper Club series, which follows the lives of three best friends: Rachel, Melody, and Ana. I highly encourage readers to read them in order to receive the full experience of the characters and storylines, which do weave in and out of each book.
The Solid Grounds Coffee Company is a book all about the importance of forgiving ourselves, redeeming the past, and embracing second chances. The message that we don't have to be perfect to be lovable is very strong and convicting. Throughout this book, the reader enjoys smart dialogue and picturesque scenes, and even learns something interesting about coffee farming and production. One thing that disappointed me in this book was that one of the characters leaves the Catholic faith. This seems like a too-common theme, and I long for the Contemporary Christian novel that includes a character who is happy and content being (and remaining) Catholic. Overall, The Solid Grounds Coffee Company is a heartwarming read and a wonderful ending to this very enjoyable series.
All in Good Time by Carolyn Astfalk is my current fictional read. I actually started this just before Advent, but my reading plans soon got replaced with holiday preparations, school concerts, and Hallmark Christmas movies! So, I am picking it up again, right where I left off. The story centers around Melanie Lombardi, a widow and mother of three young children. She is barely surviving daily life, and romance is certainly not on her radar. Until she meets Brian Perella at her son's baseball game. Brian has pretty much sworn off dating, until of course, he meets Melanie.
I am a fan of Carolyn's writing, and I have recommended every book of hers that I've read. She writes intelligently and imaginatively. There is equal parts swoon and depth to her romance novels. I will note that All in Good Time has a more serious tone than her other books, because it deals with a very difficult topic. However, Carolyn handles it carefully and sensitively, which is very impressive to me. I can't wait to see how this one ends!
Theology of Home: Finding the Eternal in the Everyday is by Carrie Gress, Noelle Mering, and Megan Schreiber. It is a unique home decor book that centers around the idea that beauty draws us closer to God. It is not a how-to book, per se, but it certainly guides readers to create a comfortable and welcoming home that draws others into contemplation of our eternal home in Heaven.
This book is gorgeous, with stunning photos of homes across the United States. I have heard criticism that this book makes readers feel badly about their own homes. But I have actually felt the exact opposite. Reading Theology of Home has re-inspired me to have pride in my home and create an environment that offers my family and guests a sense of belonging. The work within the home, while often monotonous, is extremely vital for the family to flourish. This is what I take away from Theology of Home. And this work starts with love … and incorporates simple practices, such as gathering for family dinners, keeping the Sabbath holy, lighting candles, and keeping things (imperfectly) orderly. There is a theology to our homes, our domestic churches, that draws us that much closer to God.
Your turn
What have you been reading? What do you look forward to reading this February? Please share in the comments below, as I am always looking for good recommendations. And if you are on Goodreads, let's connect there to keep the book conversation going.
Happy Reading, friends!
---
This post is part of the monthly Open Book linkup on CatholicMom.com. Join Carolyn Astfalk and other avid readers as they share the books they're currently reading.