An Open Book: What I'm Reading in March
An Open Book: What I'm Reading in March
Last month, I shared that I read fairly slowly. I don't plow through piles of books. In fact, I am still reading the books that I was reading in February!
But the suggestion from Emily P. Freeman that I have been implementing, reading for 15 minutes a day, has helped. And I am actually almost done with my February books!
Which brings me to what I'm reading in March, within the seasons of Lent and spring.
Here's what I'm reading in March
Lenten selections
Here, Too: Where We Meet God is a Lenten devotional published by Blessed Is She. Each week offers personal essays, lectio divina, and reflection questions. It invites us to turn our hearts and minds toward the richness of our faith by discovering God in the usual and unusual places of our lives.
"Here, Too is a book of sacred stories. Through Scripture passages from the Gospels and the Psalms, we will meditate on different places where we can meet God. Personal reflections from seven women in different seasons and stages of life will invite us to contemplate our own stories: the moments where we can meet God and the ways we can be transformed by these encounters." —Laura Kelly Fanucci, narrator
If you are still looking for something to read and pray with this Lent, the digital download of Here, Too is still available in the BIS shop.
I am really excited to be part of the launch team for Everything Is Yours: How Giving God Your Whole Heart Changes Your Whole Life by Kris Camealy. Her writing is beautiful, faith-filled, and deep. This book is about surrender and learning how to open our hearts and hands fully to God. In it, Kris shares stories of her experience with surrender and incorporates Scripture throughout. If you preorder this book, there are some wonderful bonus gifts!
I started Lift Up Your Heart: A 10-Day Personal Retreat With St. Francis de Sales by Fr. John Burns awhile ago and never finished … And I'm not sure why, because it's really good! But this month, I am really looking forward to returning to it … and finishing it!
Based on de Sales' Introduction to the Devout Life, Fr. Burns distills 10 meditations into a mini-retreat that can easily be completed in the midst of a busy life. Readers will learn the basics of forming a daily prayer routine, including how to offer yourself to God, meditate on his love, and maintain peace in the face of suffering.
And one for spring break
Courtney Walsh has become one of my favorite Christian fiction authors, so I cannot wait to dive into her newest novel, If For Any Reason, which seems like the perfect "spring break" read! It is the story of Emily Ackerman, who has traveled the world but finds herself in the midst of professional failure. She returns to Nantucket to renovate and sell her family's cottage. While there, she reunites with Hollis McGuire, the boy next door–turned–baseball star who's back on the island after a career-ending injury. As sparks fly between her and Hollis, Emily uncovers secrets about the tragic accident that led to her mother's death. As her world turns upside down, Emily must choose between allowing the voices from her past to guide her future or forging her own path forward.
Your turn
What have you been reading? What do you look forward to reading this February? Please share in the comments below, as I am always looking for good recommendations. And if you are on Goodreads, let's connect there to keep the book conversation going.
Happy Reading, friends!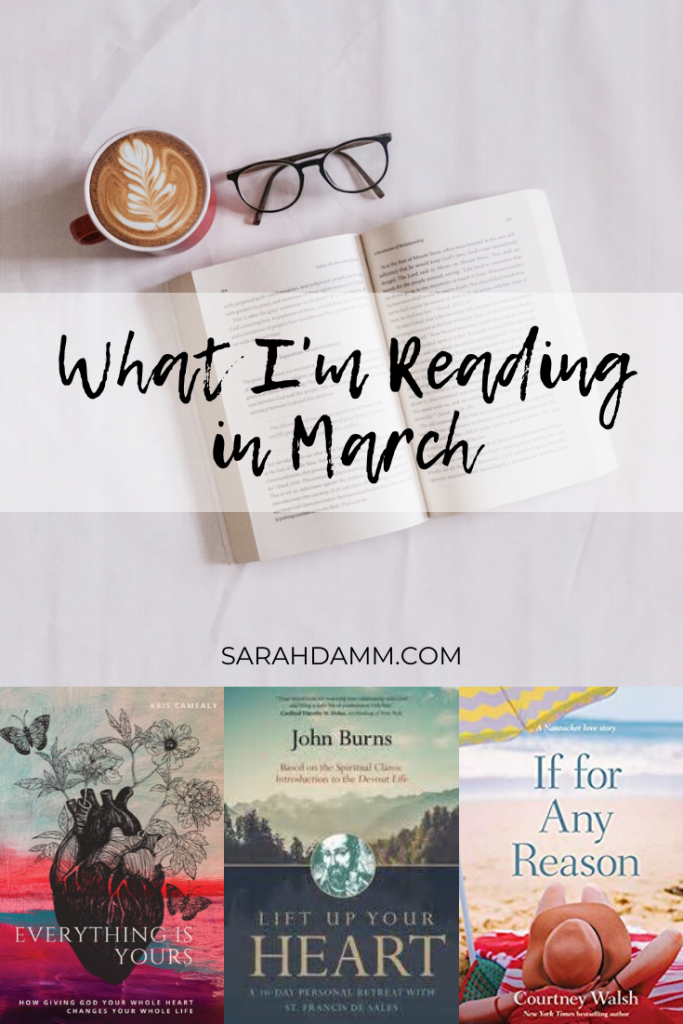 ---
This post is part of the monthly Open Book linkup on CatholicMom.com. Join Carolyn Astfalk and other avid readers as they share the books they're currently reading.