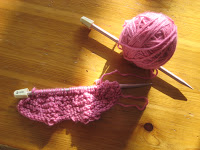 Knitting 101
Knitting 101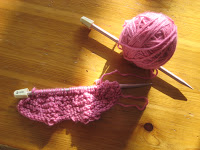 The two things I remember most about my grandma are that she had a beautiful devotion to the Rosary and she spent a great deal of time knitting. She probably did both of them at the same time! Her knitting was really a ministry of sorts. She made sweaters, hats, mittens and more all year long, and then donated them to the missions. She gave most of what she made away. How beautiful!
I remember asking her once to teach me how to knit. I was probably only eight or nine years old, and well, let's just say that my lesson didn't last long. I'm not sure if it was she or I that didn't have the patience—or maybe it was both of us! Nevertheless, I always admired her skill and talent, and loved just sitting with her, watching her work and chatting away about all sorts of things.
As a custom, Grandma knitted an afghan for each of her grandchildren's high school graduation present. I remember going to the store with her to pick out yarn colors, even though my graduation was some years away. My grandma died before she finished my afghan, so my cousin was kind enough to finish it for her. It is one of my favorite possessions, because her hands touched it, blessed it.
Even though it has been almost 20 years since Grandma passed away, I miss her deeply and think about her a lot. I wish I had more adult years with her, and so I often ask her to intercede for me and my family.
About a year ago, I had an urge to give knitting a try again. It wasn't the right time, however, because I was in the midst of that (crazy) first year with twins.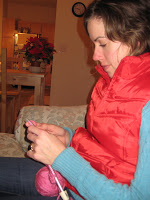 A few weeks ago, my friend Anna was kind enough to give me my first knitting lesson. My six year old was with me when I picked out yarn, which is why it's pink. I was intending for my first project to be a scarf for her, but I think my first project will have to just be a practice piece. It's not great, but it's all mine!
I am really enjoying the beginning of this new pastime. It's fun and relaxing with my iPod and tea! And I am hopeful that in time (lots of time) I will improve and be able to make things for my kids and as gifts. But also, I am feeling a new connection with my grandma. I think she would be pleased that hobbies like knitting are so popular again. It's like a link to the past; a way to preserve it.
Following in my grandma's footsteps, if only I could cultivate that beautiful Rosary devotion, too … In time, right?