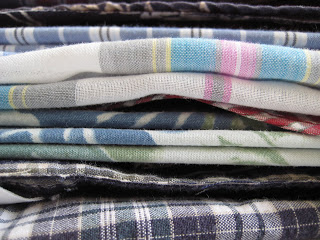 My (Sort Of) First Sewing Post
My (Sort Of) First Sewing Post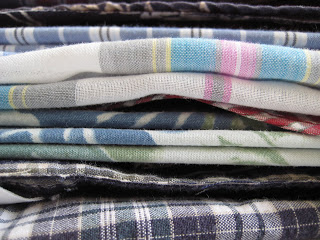 So, I haven't sewn anything, yet. But I'm close. Really, really close.
My mom and I are making a memory quilt out of my step-dad Russ' old shirts. He wore a lot of plaid ones (note photo on sidebar =) So, it'll mostly be a plaid quilt with a few other prints sprinkled about, and probably some more solid material to fill it in and balance it out. (We still haven't determined the size, so instead of one big quilt, we may sew two or three "throw" size quilts instead … We'll see.)
We think the quilt will be a nice keepsake of Russ … We will be able to hold onto something that will always remind us of him. And make us smile in the process, remembering all those plaid shirts! The idea was inspired by
this sweet gal's
similar quilt made from her dad's old sweatshirts.
The shirts have been pressed and cut, and we are ready to begin making squares.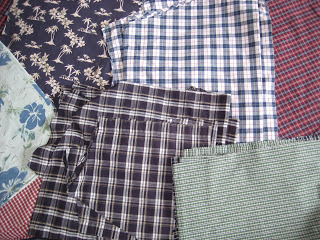 Stay tuned for more progress, but since I'm pretty new to all needle arts, don't expect to see much progress too soon (like by tomorrow or next week). Thankfully, my mom does have sewing experience, so I look forward to learning a lot alongside her.
BTW, some of you may be wondering how that
purple scarf
is coming along … Let's just say, I'm still plugging away at it. Thankfully, it's summer, so it's not needing to be worn by a certain five-year-old girl. Maybe that's why it's taking me longer … Yeah, it really has nothing to do with the fact that I'm slow! LOL
Anyway, back to the quilt. I am really excited to be starting my first quilt! I couldn't wait any longer to share my excitement with you =)
Have a blessed summery weekend!