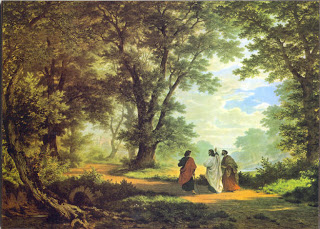 An Emmaus Journey (Of Sorts)
An Emmaus Journey (Of Sorts)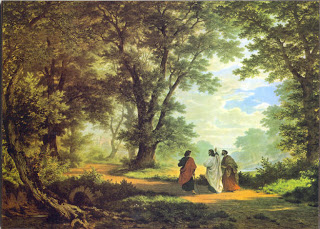 In today's Gospel, we read about the disciples traveling on the road to a village called Emmaus. And while they were walking, Jesus drew near and joined them on their journey …
Today, my mom is on a journey of her own. She closed on her home in Florida on Monday, and is now making her way up here. She is accompanied by her brother. Yes, they are driving the moving truck up here, all. this. way!
You see, my mom is moving up here to live with us, in the house we will start building in another month or so. This has been a plan for a very long time, even before her
husband
(my step-dad) passed away about one year ago. (Both of them were actually going to come and live with us!)
Anyway, she is an avid Scripture reader and studier, and her all-time favorite reading from the Bible is that of the Emmaus journey. So, it is only perfectly appropriate that she is making her own journey on the same day that her favorite Scripture reading is the Gospel!
If you would please keep them in your prayers, as they journey today (and probably tomorrow). May God's angels surround the truck and protect them on the road. And may Jesus truly be with them as they travel, giving them the utmost Easter joy along the way.