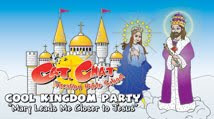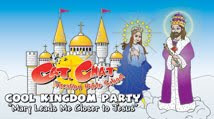 I am grateful that our parish selects VBS programs of quality as well as authentic Catholicity. Past years' themes have been St. Catherine Laboure and guardian angels as well as St. Patrick and the Trinity, both from
Growing with the Saints
.
My children always come home filled with knowledge, joy, excitement, and of course, lots of crafts and catchy, little songs. There also is a service component incorporated into the week. This year, we are collecting personal hygiene products for
Mary's Place
. Some of the Mary Mother of Christ sisters will join us on Friday to collect the items.
This is certainly our busiest week of the summer: getting up early, eating lunch late and trying to have more relaxing afternoons.
So, that's what's going on around here. What are you doing during this first week of summer?