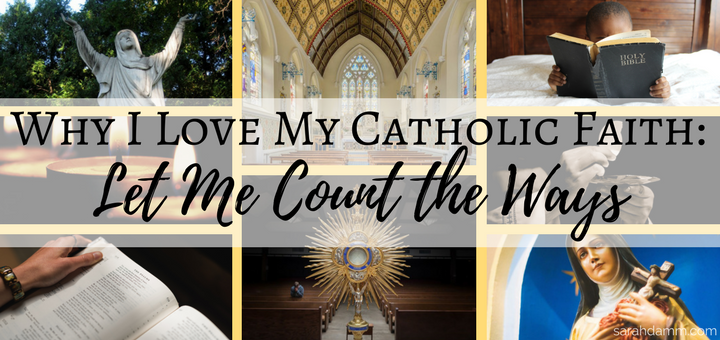 Why I Love My Catholic Faith … Let Me Count the Ways
Why I Love My Catholic Faith … Let Me Count the Ways
Less than one month after I was born, my parents brought me to our local parish and asked the Catholic Church for a gift on my behalf. They asked that I receive the sacramental grace of Baptism, to become a daughter of God and a member of the Catholic family.
Growing up, I loved Jesus. I was one of those kids who enjoyed Mass and Sunday school. Church was a familiar, comfortable place. Looking back, I didn't attend a particularly orthodox parish. There were no statues, devotions, or traditional Catholic practices. But I walked through life happy to be Catholic. It was who I was. It was the family I was born into. And I knew from an early age it was the church Jesus established when He gave Peter the keys to the kingdom (Matthew 16:17-19).
I ended up attending a fairly liberal college. I wanted to go to a Catholic school, and I was naïve to think that Catholic in name means Catholic in practice and identity. So for a few years, especially as a theology minor, I learned about liberal approaches to the faith without having any real knowledge of a more authentic Catholicism. It was somewhat confusing and frustrating. More than anything, I sensed a lack of joy in those radically progressive ideas. And even though I couldn't explain or defend my faith, I associated a lack of joy with a lack of truth.
Thankfully, I was rescued from the tangled confusion, and I found myself on a path that opened doors to truth, beauty, and goodness. The more I learned about the true Catholic Church, the more excited I became. Every time I discovered something new-to-me, I was led to something even deeper and more profound to learn and experience. It was like receiving the Christmas gift that keeps on giving. That one big box that has another box and another box inside just waiting to be unwrapped.
I had a renewed gratitude for the absolute privilege it is to be born into the Catholic Church. Even more so, I was grateful to Our Lord Jesus Christ, for His gentleness and patience as He walked through life with me. All along, He guided me, even when I didn't realize it. When I was lost and confused in those college years, He didn't give up on me. Rather, He stayed with me and saw me through.
Fourteen years ago, my husband and I brought our first child to our local parish and asked the Catholic Church for the grace of Baptism on her behalf. Now, as we raise our six children in this fallen world, we strive to pass down the Catholic faith to them. In our family life, we have uncovered devotions and traditional Catholic practices that we didn't grow up with but that we now cherish. And as our children learn the faith in a more traditional way, we learn right alongside them. For example, when my oldest was in Kindergarten, she learned the Prayer to St. Michael. And guess what? We learned it with her. "Why didn't I learn this when I was six?" I asked the Lord. And in His gentleness, He was just happy that I was learning it now.
I was born and raised Catholic, and I never left the Church. But it has been in the past 17 years that my faith has flourished. In this time, I have discovered a love for Sacred Scripture and understanding the story of salvation history through the Bible Timeline. I have claimed a true devotion to Jesus through Our Blessed Mother Mary. I have learned a wee-bit of Latin and truly appreciate it in the Mass. My love for the Sacraments, especially Holy Communion and Holy Confession, have grown into something indescribable. I simply love that Jesus is so present to us. His love and mercy are overwhelmingly beautiful that I can't imagine being anywhere else. "Lord, to whom can we go?" (John 6:68)
According to a recent Pew Research Center study, the Christian U.S. population has sharply declined. And I recently heard a startling statistic: For every one person who converts to Catholicism, seven leave the Church. This is incredibly sad, because it shows where our culture is as a whole. But it is not time to jump ship, give up, or freak out! Jesus knew that in the world we would face tribulation and persecution. But He commanded us to take courage and be not afraid! For Jesus has conquered the world (John 16:33).
"In her voyage across the ocean of this world, the Church is like a great ship being pounded by the waves of life's different stresses. Our duty is not to abandon ship but to keep her on her course." —St. Boniface
Indeed, this study is a wake-up call for those of us who love our faith and believe in the "one, holy, catholic and apostolic church" that Jesus Christ founded. But as I look around, I truly see a beautiful, vibrant Catholic Church! I see incredible apostolates, dynamic authors and speakers, a vibrant media presence, studies that enliven Catholic teachings for all, a 25% increase in priestly ordination in 2015, the powerful testimonies of converts to the Catholic Church, new vocations to the religious life, and the experiences of cradle Catholics like me whose faith has unfolded, grown, and deepened over time.
Our Church might seem to be smaller, but it is getting stronger. We have been through rough patches in history before. And we have had historic periods of rebirth and renewal in the Church, too. Speaking about the Church, Jesus said, "the gates of Hell will not prevail against it" (Matthew 16:18). And His word is good enough for me! Jesus knows what's going on! And He has put us here "for such a time as this," to grow in our faith, to pass on our faith, and to live our faith as best as we can (Ester 4:14). Well into eternity, the Catholic Church is and always will be. I love being a member of this family, and I am here to stay.
Why do you love your Catholic (or Christian) faith? Please share your thoughts in the comments below.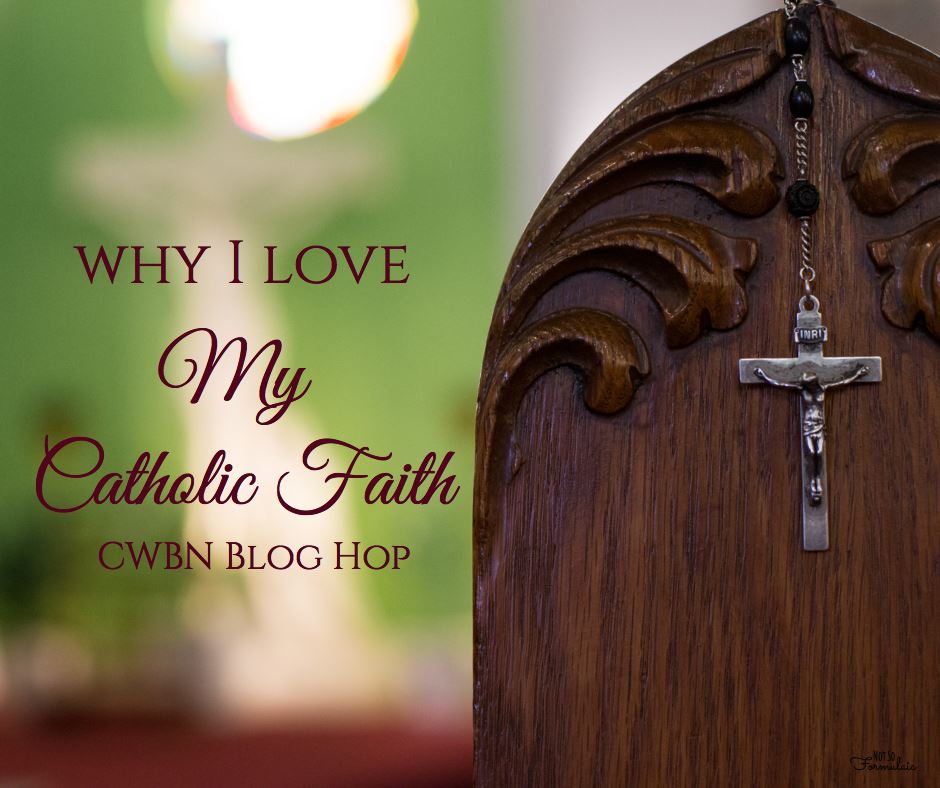 For more information about the Catholic Women's Blog Network (CWBN) Blog Hop or to read why others love their Catholic faith, please click the image above or HERE.