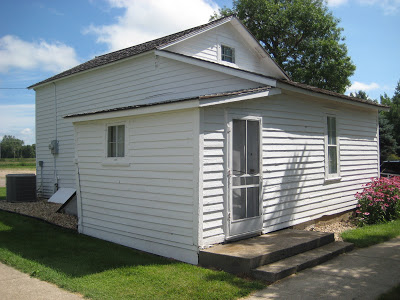 Last Day on the Prairie
Last Day on the Prairie
After our delicious, homemade breakfast of French toast and fresh fruit that I mentioned
here
, we headed to the
Laura Ingalls Wilder Memorial Society
for a walking tour of some historic homes. While we couldn't take photos inside the homes, it was really neat to have a guide explain more detailed history of the Ingalls' life in De Smet, and to see, firsthand, some of the places Laura describes in her books.
To be honest, I have not read all of the
Little House
books. Yet. But as a family project, all of us are reading them together. Even my husband! In an effort "to be on the same page" with what our children are most enjoying at this time. We're not necessarily reading out loud to my oldest daughter, as she is really starting to enjoy reading alone. But we're making it a point to read them all (roughly) at the same time. We're even including the
My First Little House
books, such as this
one
, for my Kindergartener.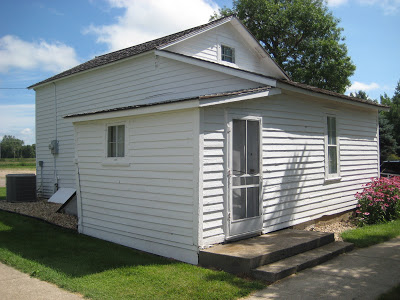 First up on the tour: the original Surveyor's House from By the Shores of Silver Lake. This little porch was added on in an effort to preserve the original exterior of the house. Going through that screen door, the exterior wall is in its original wood.
Next stop: a replica of the Brewster School, where Laura taught, in an effort to raise enough money to send Mary to a school for the blind.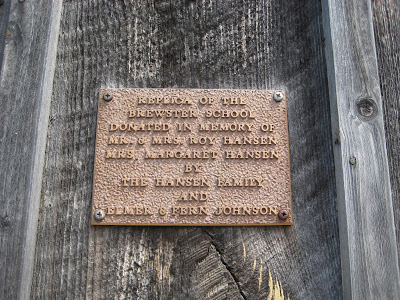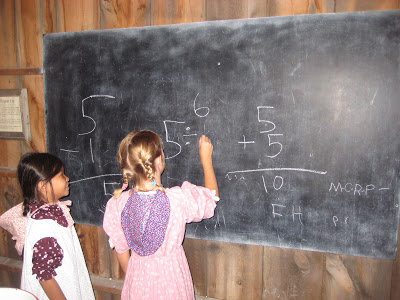 My daughter and her new friend from a southern state. They exchanged addresses in hopes of being pen pals.
We then headed into another one-room school house. This one being the first school of De Smet. This is where Laura, Carrie and Grace actually attended school.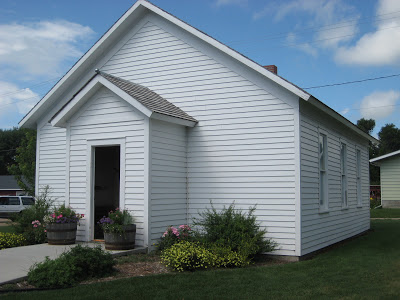 A few blocks away stands the home that Charles Ingalls built as a final house for him and Caroline. Mary, Carrie and Grace also lived here, but at this point Laura and Almanzo already were married. We could not take photos in this home either. There are a lot of family heirlooms within it, which were neat to see.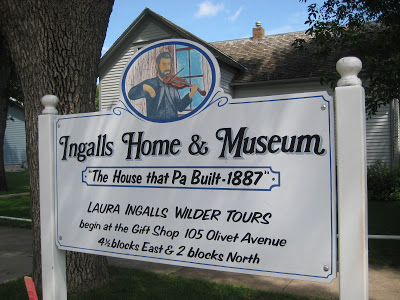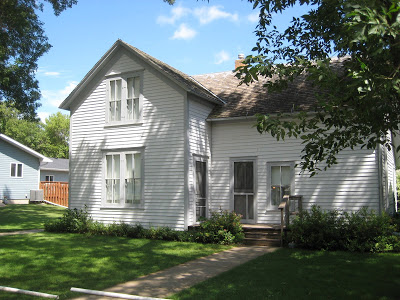 After our walking tour, we headed out to the
Ingalls Homestead
. This is the land on which Charles Ingalls set claim in 1880. You can read more about its history
here
. But this portion of our trip was probably the most "fun," because of how many hands-on activities there were to do, including making corncob dolls, learning how rope was made, practicing sewing on an old-fashioned sewing machine and more!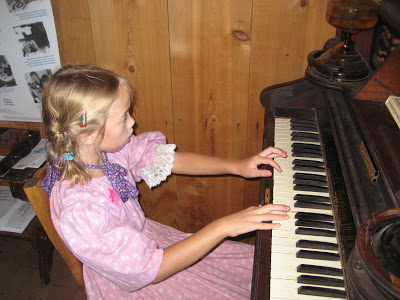 Playing music on a "pump" organ.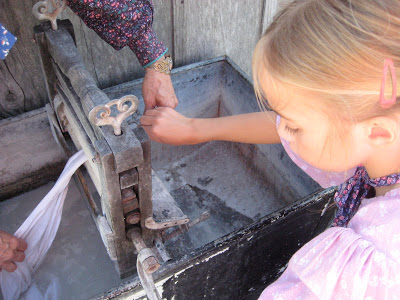 Learning how clothes were washed, wrung and dried
way
back then.
Visiting with horses and ponies. The biggest highlight for my animal-loving six-year-old.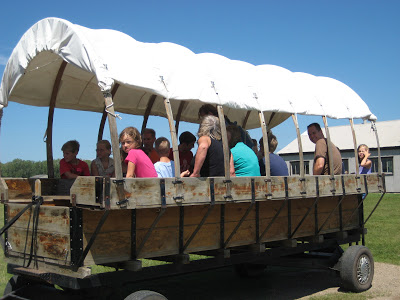 Taking a covered-wagon ride …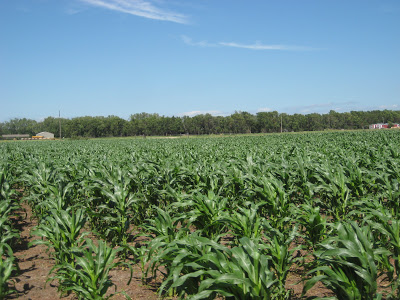 … through the cornfield,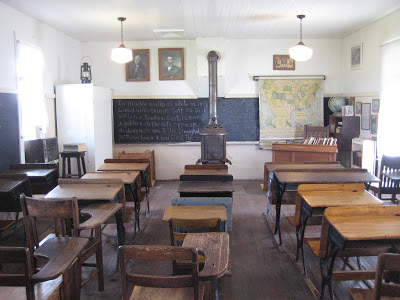 … to reach the one-room schoolhouse for an actual mini-school session. My oldest was in her glory. She. loved. this.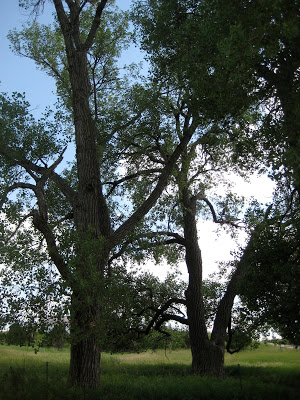 On our way to our second B&B, we drove past the five Cottonwood trees that Pa planted. And we then had a very relaxing night of hanging out, reading and playing games, before we ventured back home (a five-hour drive) the next day.
But before we packed up our "covered wagon" for the last time and headed home, we enjoyed another homemade breakfast. This time, my girls were treated to pancake men, just like Ma used to make.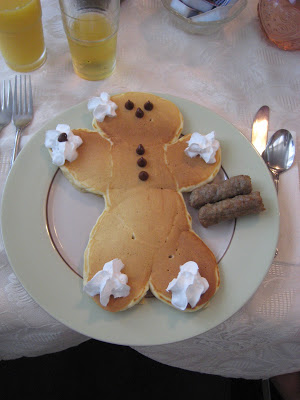 For breakfast there were pancakes, and Ma made a pancake man for each one of the children. Ma called each one in turn to bring her plate, and each could stand by the stove and watch, while with the spoonful of batter Ma put on the arms and the legs and the head. It was exciting to watch her turn the whole little man over, quickly and carefully, on a hot griddle. When it was done, she put it smoking hot on the plate.
Peter ate the head off his man, right away. But Alice and Ella and Mary and Laura ate theirs slowly in little bits, first the arms and legs and then the middle, saving the head for the last.