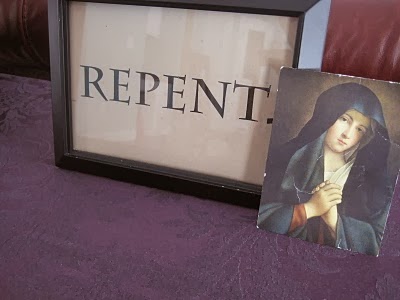 A Few More Thoughts on Lent
A Few More Thoughts on Lent
Today marks the last Sunday before Lent and the last day of the 7×7 blogging challenge (can't believe I did it)! I had grand plans to end the challenge with a bang, or at least something really, really good. But it is late in the day, and whatever bang I had hoped for is just not going to happen. Instead, I have just a few more "streaming" thoughts on Lent, as I continue to pray and think about what the season will involve this year for me and my family.
In past years, I have done many things with my family. Nothing over the top, but simple things that made a noticeable difference in our home environment in order to hopefully make a noticeable difference in our hearts.
I saw Amy Caroline's Lenten calendar, and I just loved it! I have made Lenten calendars before, too, and hers inspired me to do it again this year. If I can't pull it off, I will at least print something simple off the computer to hang up on our refrigerator.
This afternoon, my family and I talked about our Lenten sacrifices, and we are really leaning toward giving up candy as a family. Some may think that's not a big deal, but somehow, candy has become an indulgence of ours that could use some reigning in. So, we will do this together to help one another along. We also hope to do some sort of media fast, although we still don't know what that will look like (especially since sometimes I need the children to watch a 1/2-hour show, just so I can finish up a project or take a little break). But our desire is that a 1/2 hour show is the exception, and that leaning on media for entertainment is not the default. The children are still deciding what they can do themselves, and I plan on talking to them individually to encourage them to find something they can do with intention, purpose and love. That is still my goal, too, as I hone in on what "be present to the moment" can look like in my life. A computer fast/limit is definitely at the top of my possibilities, which would hopefully lead to greater focus on how I spend my time and how I love my family.
"Lent is a fitting time for self-denial; we would do well to ask ourselves what we can give up in order to help and enrich others by our own poverty," said Pope Francis in his Lenten message.
I look forward to listening to this Lenten soundtrack, reading some spiritually-nourishing books, and adding some more conversation with Jesus to my day. After all, that is what Lent is all about: Walking with Jesus, because Jesus wants to walk with us.
How about you? What are your thoughts, as we draw closer to Ash Wednesday? Have you made decisions on how you will fast, pray and give alms this Lent?
My encouragement for you (as well as what I tell myself): don't stress this Lent! Please don't think you have to be perfect about Lent (or anything, really)! I recently heard a radio interview with Danielle Bean, and she gave some very practical advice for practicing Lent. She even said that after a couple weeks, if you have to reassess your fast/penance (or even change it!), that is OK! Do not worry about tweaking or changing your Lenten activities, as you go along, to fit your reality. It is ALL good when we do those small things with great love for our Lord!
"During Lent, let us spend the gift of time seeking the wisdom of heart taught by self-sacrifice, so that, dead to sin, we may rise to new life in Christ in whom death has died" (March 5 Magnificat).