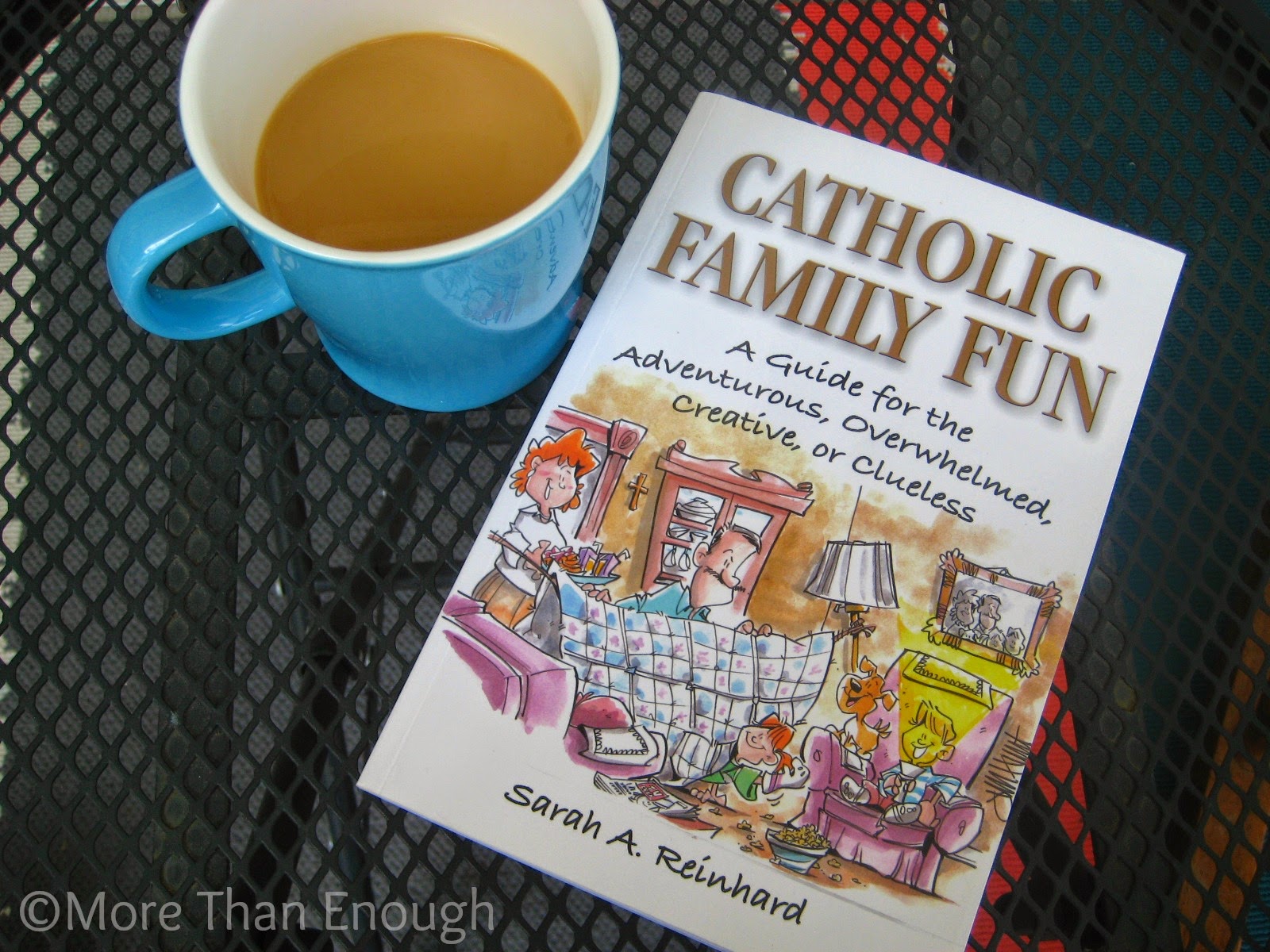 3 Reasons Why I Love Catholic Family Fun {and My First-Ever Blog Giveaway!}
3 Reasons Why I Love Catholic Family Fun {and My First-Ever Blog Giveaway!}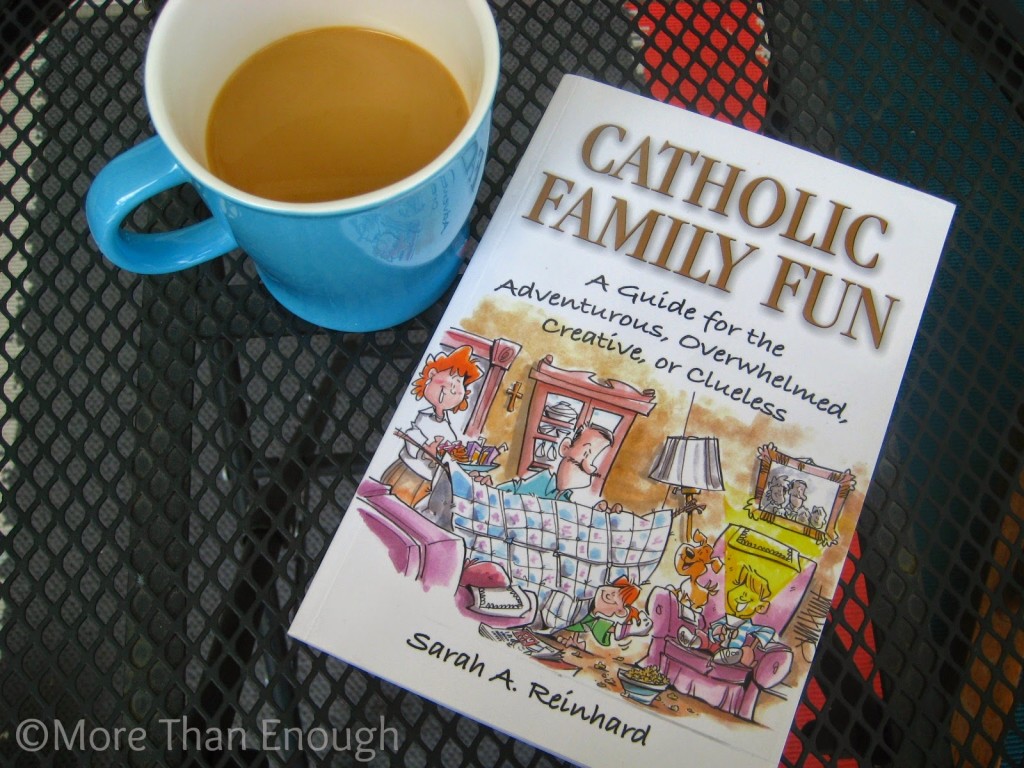 {Full disclosure: I received a complimentary copy of Catholic Family Fun: A Guide for the Adventurous, Overwhelmed, Creative, or Clueless in exchange for an honest review.}
"If it helps, keep a rosary in your pocket and picture Mama Mary walking right beside you as you struggle to look past the domestic imperfections and embrace the smiles and pleasure that await you."
This quote, hidden among the array of wonderful ideas for family fun in Catholic Family Fun: A Guide for the Adventurous, Overwhelmed, Creative, or Clueless by Sarah A. Reinhard was music for my weary sole. These 35 words allowed me to sit up and relax and believe that this book is the real deal.
I don't know about you, but as a wife and mother, I make decisions all day long. I decide what time everyone needs to wake up. I decide what we're going to have for breakfast, lunch and dinner. I decide if we can go to the library or if we need to go to the grocery store instead. I decide if the kids are dirty enough to require a bath or if we can get by one more day. So often, as moms, we make decisions without even thinking about it. It's just something that we do.
But often this constant decision-making mode leaves us exhausted. Our brains are on overload, and our bodies are fatigued. And when we get a lull in our day or are presented with a free Sunday afternoon, we can easily be all out of decisions. We are presented with time to do something fun, and we can't think of anything to do. So, we deem it board game day or movie night and call it good.
Now, don't get me wrong, I love board games, and our family has movie night once a week. But what about the other times that we spend together? What can we do?
Wouldn't it be nice to have a quick guide to help us along during those what-should-we-do-next moments? A guide that can simply tell me what to do and what I need in order to do it, so I can take a break from decision making?
Well, we have such a guide in Catholic Family Fun: A Guide for the Adventurous, Overwhelmed, Creative, or Clueless. Here are three reasons why I love this book:
Quick and Simple
Notice what words I used to describe this ideal guide: quick and simple.
In 2014, we are bombarded with images of the nearly impossible. Quick and simple have lost their true meaning. And yet, because the so-called quick and simple ideas are featured on a glossy, high-trafficeted blog or pinned 1,376 times on Pinterest, we think we should be doing them. That our lives, our families, our homes will be so much more blissful if we just DIY something so quick and simple, it will only take us two weeks to complete. Many of these ideas can leave the average mom feeling a little defeated. And as much as they might be pretty to look at, these ideas certainly aren't for me and my family. Because at the end of the day, I need simple and quick to retain their true definitions.
Enter Catholic Family Fun: A Guide for the Adventurous, Overwhelmed, Creative, or Clueless. This handy guide is for the tired-of-making decisions mom (or dad). It is a book filled with fun quick and simple ideas for the whole family to enjoy. And the reader gets to determine just how quick and simple she needs an activity to be.
For example, if you are having a particularly busy, hectic week, but some downtime or comic relief is in order, select an activity that requires little or no prep time and takes less than one hour! Something like Silly Story, where the family sits together and comes up with silly stories! Sarah even provides some story starters to help you out. This could be done anywhere: at the kitchen table, on the road, around the campfire. My husband and I have incorporated Silly Story into our family meetings. By ending the meeting with Silly Story, the kids keep focused during the important chat about family life, because they know there is a fun reward at the end!
What I love about the Silly Story idea (and many of the other ideas in this book) is that it brings laughter into the family! So often, life can be so busy and hectic that we forget to laugh and have fun. But it is one of the most essential aspects of family life, not only for our children but for ourselves, too. If we don't lighten up once in awhile, the weight of the world and of our to-do list will get too heavy, and we will break.
Many of the quick and simple ideas in Catholic Family Fun take less an hour to prepare. Some take 1-2 hours, and only a select few require more than that. The ideas are organized in the back by prep time, duration and cost.
For the Creatives-at-Heart
When my oldest children were really little, I wanted to be the mom who crafted the day away with her kids. I wanted to be the mom who was spontaneous and carefree and loved glitter. But trying to be someone who I'm not just ended up being frustrating. Crafts rarely go as planned, and rather than going with the flow, I would feel anxious and frazzled. So, I have learned to leave the painting and creating to my art-major husband.
Sometimes, however, on a rainy day when my husband is at work, the kids and I need a creative outlet. And so I turn to Sarah's doable craft ideas for inspiration, because she admits she is not crafty either!
It is hard to pick a favorite craft idea from Catholic Family Fun, but if I had to, I'd probably pick Homemade Greeting Cards, because it is something my kids and I have done and have found to be so rewarding, not only for the recipient but also for the creator. Sarah takes it a step beyond birthday and get-well cards, and she gives us so many more ideas about what kinds of greeting cards we can make. I especially like her faith-based card ideas, which brings me to the final reason why I love Catholic Family Fun so much!
Weaving in the Catholic Faith
Most of the ideas in Catholic Family Fun are ideas any family could do. They include nature hunts, picnics, obstacle courses and trips to the zoo. But throughout the book, Sarah provides "faith angles" to many of these general activities, in order to give parents ideas on how to incorporate the Catholic faith into the ordinary and everyday aspects of our lives.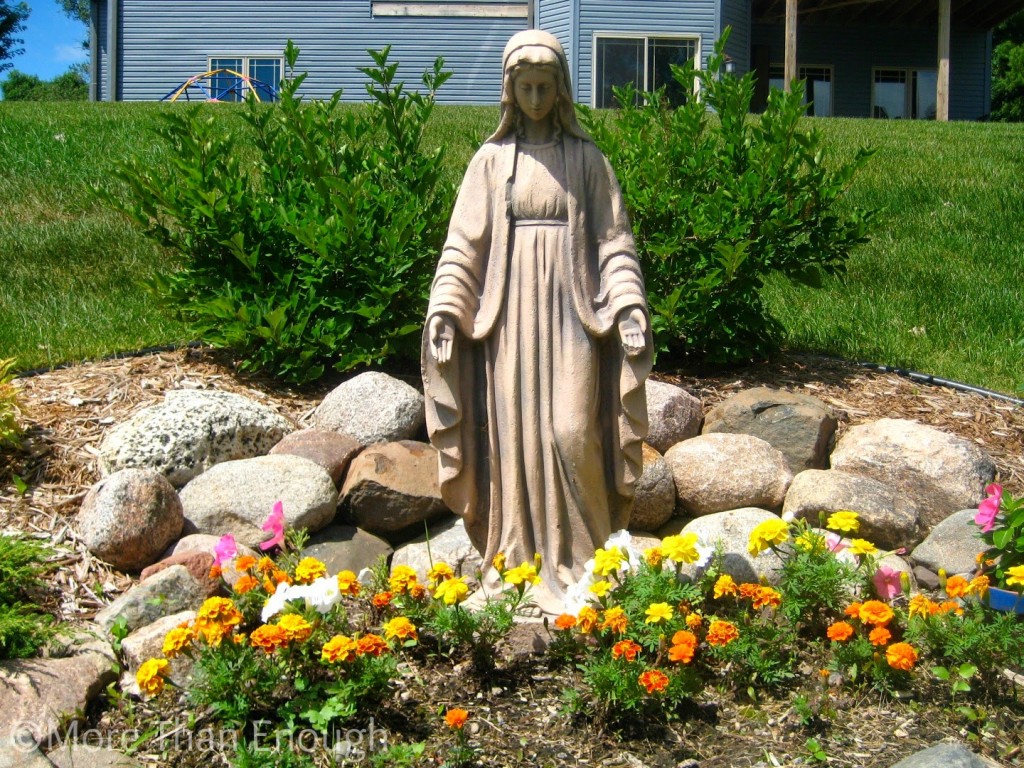 Planting a Mary Garden is just one of many wonderful ideas for family fun in Catholic Family Fun: A Guide for the Adventurous, Overwhelmed, Creative, or Clueless by Sarah A. Reinhard. This is my family's Mary Garden.
For example, one of Sarah's ideas is to have an Unbirthday Party, which basically includes things you would expect at a birthday party, like cake and balloons. But an unbirthday party obviously takes place on a non-birthday day. And if you add a twist of faith, you can easily plan an unbirthday party to coincide with a baptismal day or favorite saint's feast day.
This simple idea renewed our family's commitment to celebrating the patron saint feast days in our domestic church. There have been times where we have been really good at this, and other times that we have missed some. But with a little planning (i.e., writing my kids' feast days on my calendar) and preparing a favorite dessert, we have family fun that also celebrates our Catholic faith!
In addition to adding a twist of faith to everyday activities, such as scavenger hunts and backyard circuses, Sarah also devotes an entire section of her book to specific faith-building ideas, including planting a Mary garden and finding several uses for holy cards. There also is a section of service project ideas, so we can put our faith into action.
How about you? Could you use a little help in the family fun department? Would it be nice to have a resource, so you can take a little break from decision making and let this book be your guide?
Thanks to Sarah's generosity, I am offering the chance to win a free copy of Catholic Family Fun: A Guide for the Adventurous, Overwhelmed, Creative, or Clueless for you and your family to enjoy! This is my first-ever blog giveaway, and I am really excited about it! Enter the Rafflecopter Giveaway below, and be sure to tell your friends about it!