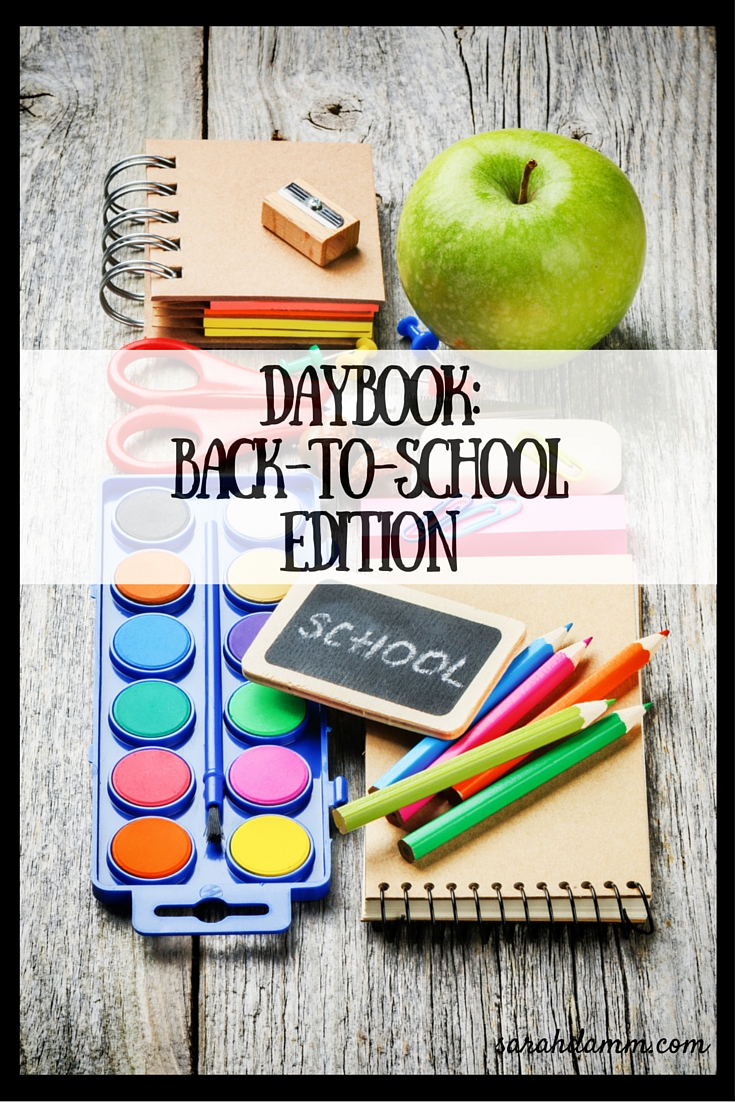 Daybook :: Back-to-School Edition
Daybook :: Back-to-School Edition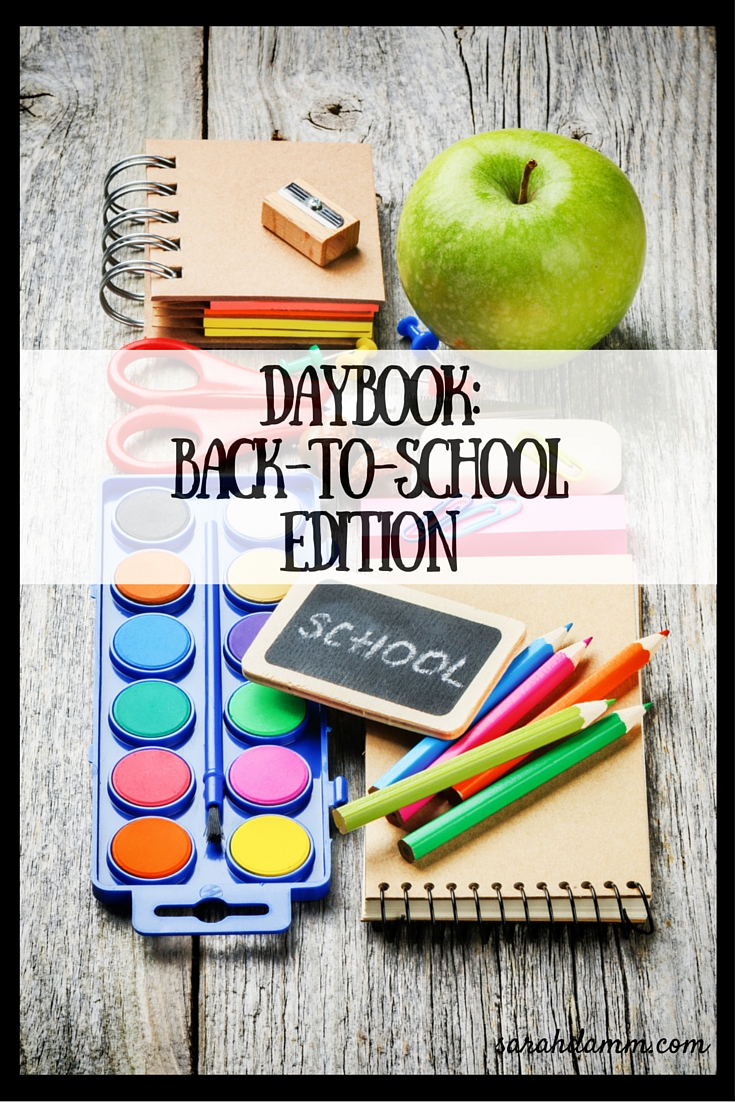 Yeah, I know that daybooks are normally published on Mondays … But Thursday's the day for me this week! I hope I'm not breaking too many blogging rules!
Today, is August 27. My oldest daughter starts a new school (junior high!) today. Next week, four of my children begin their school year, and the day after Labor Day starts my youngest's second year of preschool. Yes, we are wrapping up our summer and gearing up for a new school year. I actually love this time of year, and not because I get to send my kids off to school. Rather, it feels like a "new year" of sorts, with sharp pencils and new shoes. We get to open a fresh notebook to a clean piece of paper. We get to begin again. Not just the children. We all get to begin again …
Outside my window …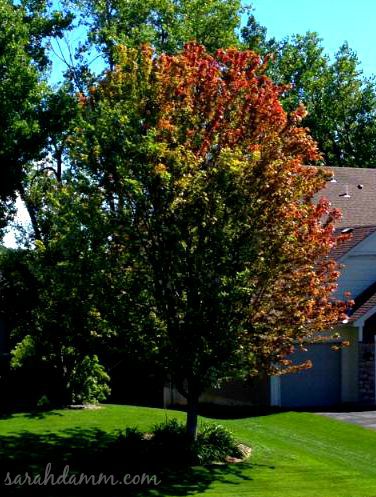 After a few hot days, we got some much-needed rain, which brought in cooler temps. The weather is just right. Fall is in the air, and it came into view just a few days ago.
Thanking God for …
* This girl who begins a new chapter of her education (junior high!) at a new school. She sports a more mature (but not too mature) haircut, and she is ready to learn new subjects and meet new friends!
* Finding a new doctor who I think will really be able to help me get to the root of my autoimmune disease! It is quite the story of how I even found him. But in the last week or so, God has clearly been pointing me down a particular path.
* Laughter among friends
* Mentors and friends on this faith journey
Praying for …
* My children, as they begin a new school year
* My husband, especially while he is on his silent Ignatian retreat
* Family and friends, especially those who have asked me to pray for them
Pondering …
A BIG decision. What is God calling me to do? What is His will? I feel uncertain, and I want to be confident and trusting of the Lord's will.
Listening to …
Children playing outside … The pounding of boards, as we finish work on our new deck … My little guy playing with every toy he owns. (I wonder what goes on his little imaginative brain! I'd love to "see" what he's thinking!)
Reading …
* Created to Relate: God's Design for Peace and Joy by Kelly Wahlquist. If you have a bookclub, this might be an excellent one to add to your to-read list. It is all about the feminine gift of being radically relational and how women can use that gift to come together and do amazing things!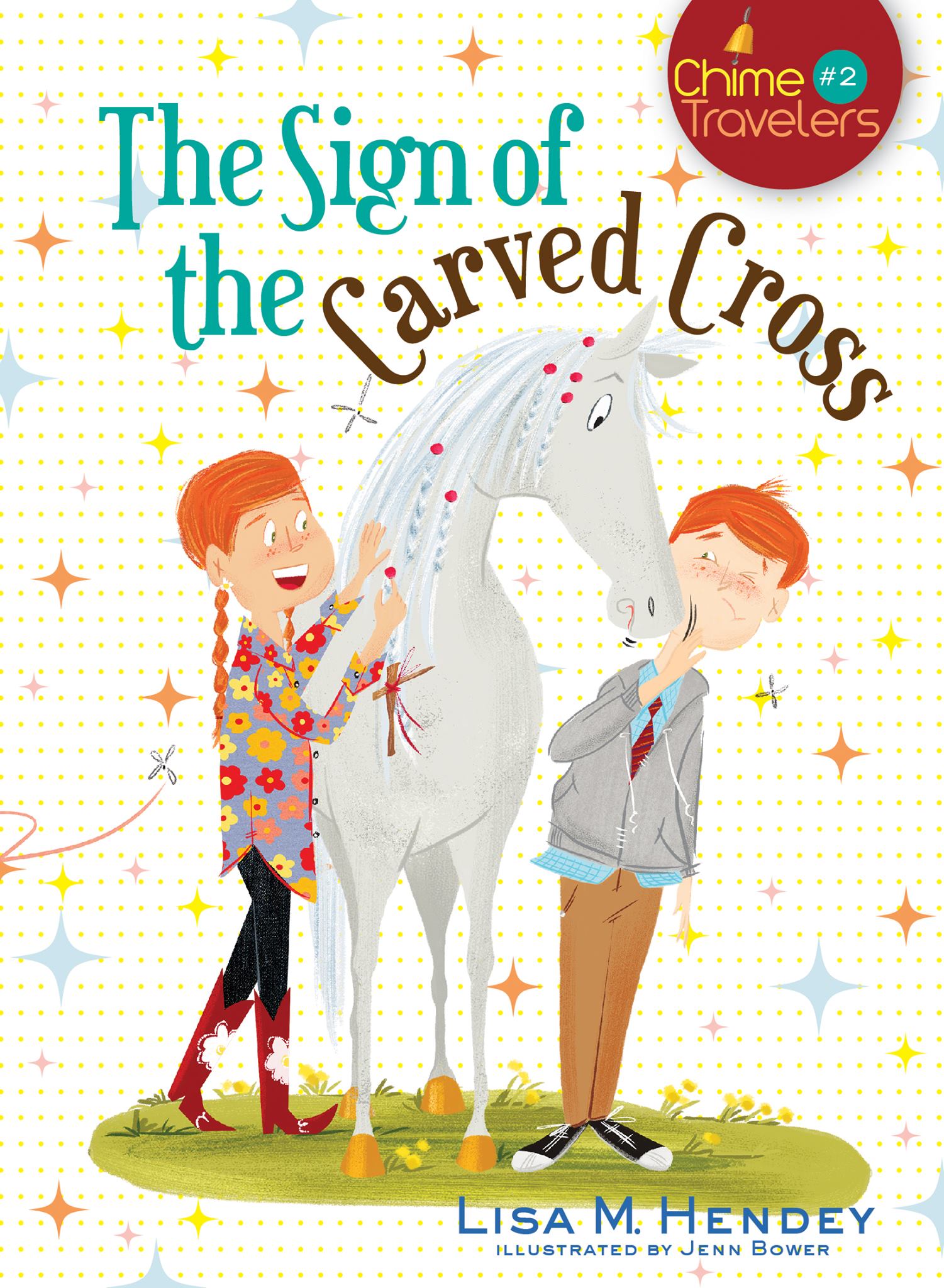 * The Sign of the Carved Cross by Lisa Hendey. My 7-year-old daughter and I are enjoying this second title in the Chime Travelers series. It is delightfully written, and we are learning a lot about our faith, the life of St. Kateri Tekakwitha, friendship and more. My daughter likes it, because the main character has a twin brother … and so does she!
* Another children's book, Adventures of Faith, Hope and Charity: Finding Patience by Virginia Lieto, is such an encouraging book! I don't want to say too much, because I will be reviewing it Monday as part of a blog tour. So, if you want to know more, check back then!
* I recently wrote a "back to school" article for WINE: Women in the New Evangelization that recommends five books for growth in our Catholic faith. Check it out, and let me know what book you would add to the list.
Up next? I'm not sure! Do you have any suggestions for me?
Around the house …
All of the school supplies are purchased, sorted and labeled. The house is a little overrun by supplies. And not just your typical notebooks and crayons. I had to purchase 13 boxes of Kleenex and eight rolls of paper towels this school year! I have to admit that I am looking forward to fall cleaning and organizing. Our house seems out of control to me. Have you ever been through a messy season? How did you deal with it? I know that messy is subjective, because to my husband, our house is fine. But the piles, clutter and lack of routine for tidying up is driving me crazy!
In the kitchen …
A post at Shower of Roses really inspired me. I truly think this diet is a piece in the Hashimoto's puzzle that I am trying to solve. I am working on implementing the Autoimmune Protocol diet into my life. It is not easy! But I have done the Whole30, and I can do this. The hardest part will be giving up coffee, which I am totally dreading. Will you say a pray for me, for strength and determination?
Plans for the week …
* Back to school
* New doctor appointment
* Volleyball practices
* Mother-daughter party for all seventh graders