Daybook :: The World of Octobers + Day 12 :: 31 Days With Mary
Daybook :: The World of Octobers + Day 12 :: 31 Days With Mary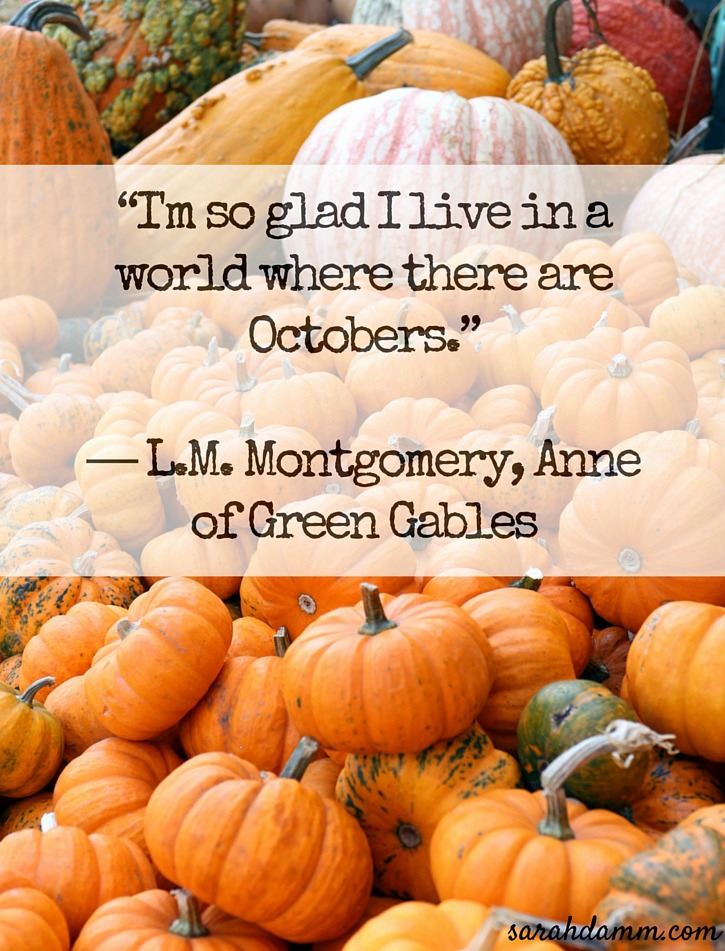 Outside my window …
It is mid-October, and I wore shorts on Saturday. Today, the air has shifted, and it feels much more like October. The leaves have not been as vibrant this year, and I don't know why. Every bright red and vivid orange tree I see makes me smile.
Thanking God for …
* The month of October … my favorite
* Beautiful fall weather … it seems like the fall is taking its time
* Bright fall leaves
* Orange pumpkins everywhere
* A short school week
* This girl: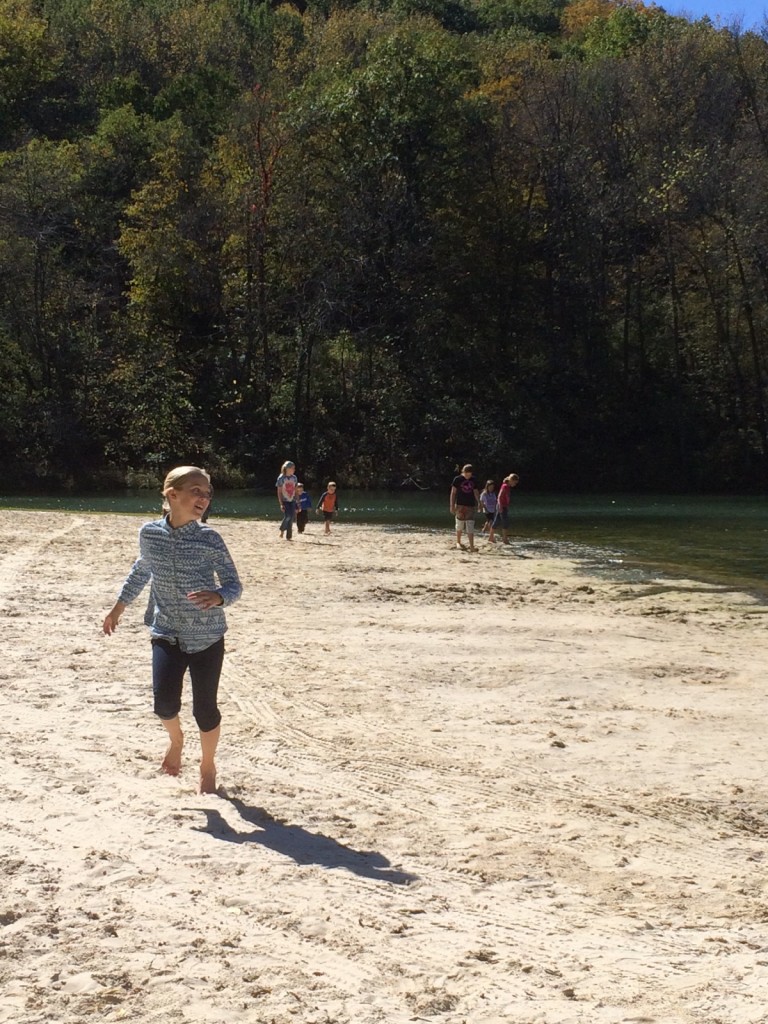 Praying for …
* A decision my husband is currently discerning
* The joys and struggles that are facing my children
* Healing from my inflammation
* A big project WINE is working on
Pondering …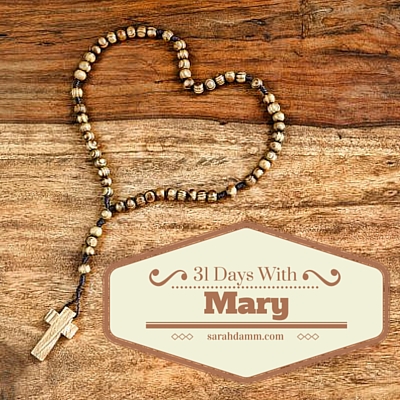 Today is Day 12! At the Catholic school where my daughter's volleyball tournament was held this weekend, I spotted this beautiful work of art. And I had to include it in my 31-day series. I have really been enjoying blogging every day about Our Blessed Mother. It has brought her into my mind and heart in a more intentional way. She is everywhere and always near, and I am so grateful for her yes, and that it includes being my mama.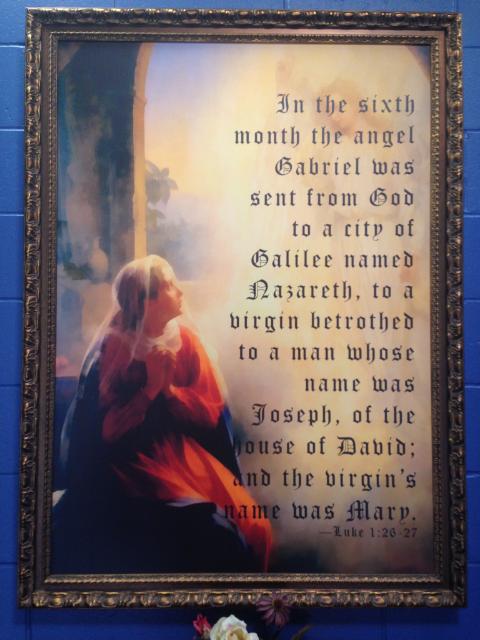 Listening to …
Only a few months after we got our (current) van, the CD player broke. That was three years ago. Just this week, my daughter put a CD in the van's DVD player, and viola! We now can play CDs in our van again.
This week, I have been listening to some of our family's favorites: The Okee Dokie Brothers' Can You Canoe? and everything by Sythian.
Also, I just attended a special WINE: Women in the New Evangelization event with singer/songwriter Marie Miller. It was a fabulous evening, and I am enjoying her CD, too.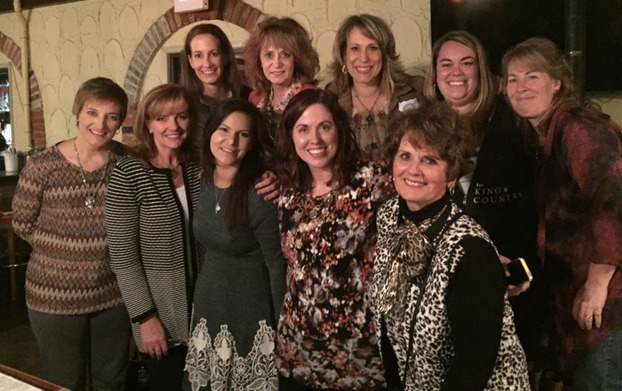 Reading …
I just finished Stay With Me by Carolyn Astfalk, and I had the honor of reviewing it on my blog last week. Part of my review included a giveaway, and the winner is Stephanie Landsem! Congrats, Stephanie!
I am reading a number of cookbooks pertaining to the Paleo diet and Autoimmune Protocol.
I also just started Better Than Before: Mastering the Habits of Our Everyday Lives by Gretchen Rubin. I think I will try to listen to this one, as I begin working on some knitting projects.
Up next is Simply Tuesday: Small-Moment Living in a Fast-Moving World by Emily Freeman and Word by Word: Slowing Down With the Hail Mary, edited by Sarah Reinhard.
Around the house …
Over the weekend, I power-cleaned the main floor of my home. It was so out-of-control. I also got out all of my fall decorations. I love decorating for fall probably more than I like decorating for Christmas, because I get to keep the decor up so much longer—through Thanksgiving weekend. The colors are some of my favorites, too, and the house just feels extra cozy.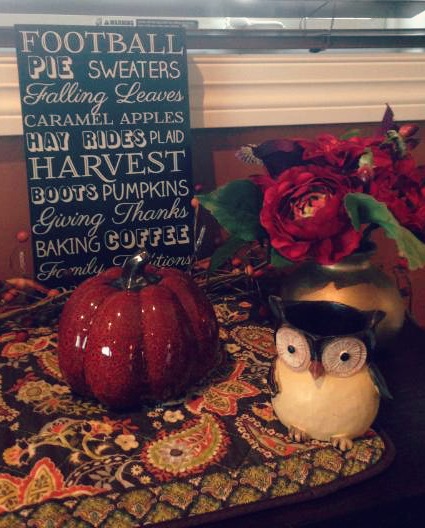 In the kitchen …
More whole foods … protein and veggies … bone broth … Himalayan salt
I also love that my kitchen is clean, and my counter is clear!
Plans for the week …
* Three volleyball games
* Haircut
* Long weekend for the kids
* Trip to the pumpkin patch
What is new with you? What are your praying for, pondering, reading or listening to? Please feel free to share in the comments! And happy Monday!