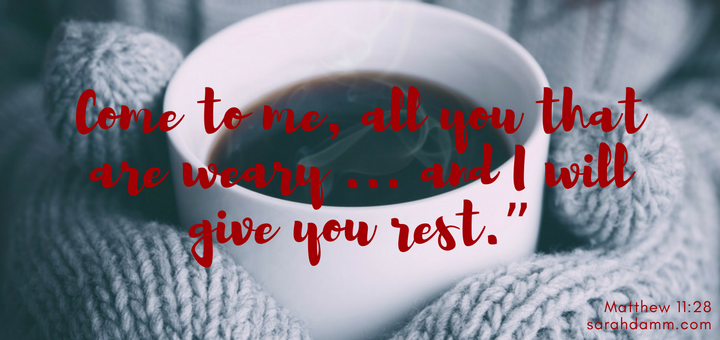 Jesus' Invitation to Come to Him This Advent
Jesus' Invitation to Come to Him This Advent
This summer, I attended a three-day silent retreat. I entered into the retreat with an agenda! I anticipated receiving very clear direction for the next phase of my life as a wife and mom. You see, my family was about to begin a new school year, and it was going to be the first time in 14 years that all six of my children would be in school. I was going to be a stay-at-home mom with no kids at home, and I was eager to discover what God had in mind for me.
As the first day of the retreat unfolded, this is what the Lord had to say to me:
"All you who are thirsty, come to the water! … come to me; listen, that you may have life." (Isaiah 55:1-3)
As I prayed through this Scripture passage, I realized that God was inviting me to rest in Him, to be with Him. He didn't want me to worry about a plan or schedule. He was saying, "Come to Me, Sarah. You are so weary. Come to Me … that your soul, which is so dry and parched, may live. Oh, and this might take awhile."
God heard my prayers of wanting to know what was next, and yet He was saying that some healing needed to take place first. I was tired, burned out, bent out of shape because of chronic illness, and overwhelmed. Throughout the weekend, I continued to be flooded with Scriptures that invited me to rest in Jesus:
"Come to me, all you that are weary and are carrying heavy burdens, and I will give you rest." (Matthew 11:28)
"… anyone who comes to me I will never drive away." (John 6:37)
I accepted this invitation. And by the end of the weekend, I felt more rested, restored, and hopeful than I had in a long time.
But when I returned home and got busy with my family, I wanted to know how to come to Jesus, rest in Him, AND take care of six kids! The Lord didn't give up on me, and He continued to whisper to me that invitation to rest … in Him.
As the months passed, and Advent grew closer, the realization of how necessary it is to come to Jesus and find rest was renewed in me again. I started seeing the Advent season as a very special gift for those who are fatigued, disheartened, and weary. The familiar Scripture verses I prayed through on my retreat took on the spirit of Advent—waiting, being still, hoping, and rejoicing.
In addition, I saw the same message in familiar Christmas carols:
"O come, all ye faithful …"
"O come, let us adore Him …"
"O come, divine Messiah! The world in silence waits the day …"
And I knew that Jesus was again inviting me to come to Him, to once again be still with Him in order to receive rest for my weary soul.
Perhaps you are entering this Advent feeling a bit weary, too. Maybe you are chronically tired with health issues, sleep deprived with little kids, overwhelmed with life in general. And you want to make things happy and holy for your family this Advent, but your to-do list seems impossibly long.
You are not alone!
As we light the first candle on our wreath, let us say "yes" with all our heart to the invitation that Jesus has for us to come to Him for rest this Advent. This invitation to come to Jesus is a gift that He desires us to receive, unwrap, and savor. And through this gift we will bring all that is heavy on our hearts to Him who promises rest, refreshment, and restoration. It will even include bringing our overwhelming to-do list to Him, too, so He can guide us in our priorities. Being still in the presence of God on a daily basis, pondering Scripture and listening to His voice, can give us just enough grace to do what is possible this Advent and say "no" to what might cause additional stress, anxiety, or exhaustion. We don't have to make, bake, or craft our way thorough the season … Our way is Jesus this season!
As we begin this Advent season, how are you feeling weary, worn out, or overwhelmed? How does Jesus' invitation to come to Him and to rest in Him give you hope?
***
This Advent, I am gifting a free printable Advent prayer journal to all of my email subscribers. This prayer journal, which begins Dec. 1, includes a daily Scripture or Christmas carol quote, a short prayer, and a pondering question. It is not meant to add to our weariness but rather be a short, meaningful part of our journey through Advent to Christmas and the birth of Jesus.
Let's support and encourage one another this Advent! Because at Christmas, the weary will rejoice once again!
To receive the free printable Advent prayer journal, click HERE.