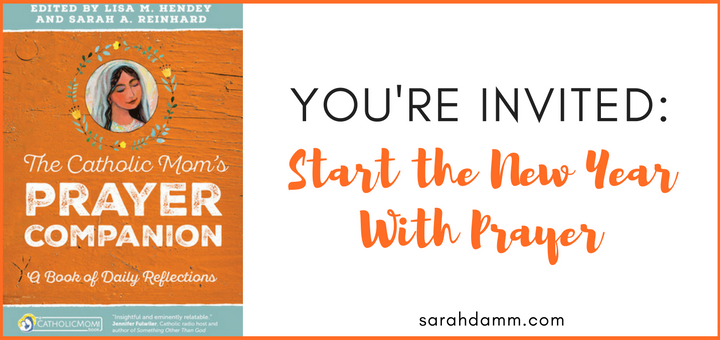 Start the New Year With Prayer
Start the New Year With Prayer
During the Advent season, the Lord invited us—the weary, worn out, and overwhelmed—to come to Him. He invited us into silence and stillness with short Scripture verses, Christmas hymns, and pondering prayers. In our time with Jesus, we found hope—even in the midst of waiting, because we discovered that we are not alone in our waiting. He is waiting with us. And hope brought joy! The weary world rejoiced indeed on Christmas Day.
I pray that this Christmas season has found you in a habit of carving our a few moments in your day to still your heart, bask in the glow of your Christmas tree, and continue to spend some quiet prayer time with Jesus.
But if you're like me, this week between Christmas and New Year's can be a bit off. My family is home from work and school, which is wonderful but also causes my routine to be out of sync. I am savoring these days, and at the same time, I long for the quiet rhythm that Advent brought me. Can I get it back?
If you are looking for a way to keep your Advent prayer momentum going or to get back on track with your prayer routine in the new year, I invite you to a very special six-week prayer/book club.
Along with six other women, I will be hosting a prayer group on Facebook using The Catholic Mom's Prayer Companion, a daily devotional that includes short quotes, thoughtful reflections, and questions to ponder throughout your day.
Each day for the first six weeks of 2017, we will post daily encouragement, as we walk together in our desire to grow in our prayer time with the Lord. As a participant, you will be able to join the conversation with other group members.
It's simple to participate!
Request to join the St. Teresa Online Book Club Facebook group.
Purchase The Catholic Mom's Prayer Companion.
On January 1, begin praying with the prayer companion and check your Facebook feed for daily encouragement.
I hope you will join us, as we work on the most important goal of 2017: drawing closer to the Lord! For more information, feel free to ask questions in the comments below or visit CatholicMom.com.
For those who subscribe to my blog via email, check your inbox over the weekend for a set of Scripture cards as a New Year's gift from me. It is my hope that these will be used to inspire, motivate, and encourage you in your 2017 goals.