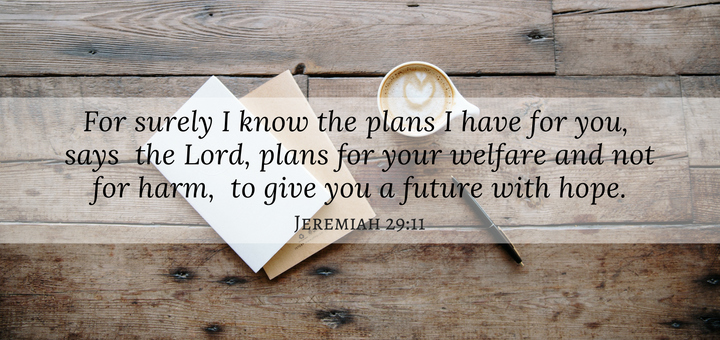 God's Resolutions for Your New Year
God's Resolutions for Your New Year
My emotions surrounding the New Year swing from excited to nervous.
I anticipate with hope the new opportunities and adventures that surround the dawn of a new year. What is in store? What is around the corner?
At the same time, I feel timid, because I have made plenty of resolutions in years past that fizzle after a month or two. Will I fail again this year?
Recently, I heard some wise words that are helping me think differently about the New Year and my resolutions. During Mass on New Year's Eve, our priest explained how we aren't the only ones with resolutions. God has resolutions of His own for you and me.
God is constantly inviting us into His plans and His ways for our lives. And I have to believe His plans are probably more fitting, more beneficial, and more doable than the lofty notions that pop in and out of my mind.
For surely I know the plans I have for you, says the Lord, plans for your welfare and not for harm, to give you a future with hope. (Jeremiah 29:11)
God has a plan and a purpose for you and for me. It has been in formation since the moment of our conception—even before. We have been fearfully and wonderfully made for such a time as this. And no matter how imperfect we may be, no matter how many times we stumble, His plan remains intact. His mercies are new every morning—every year—for us to start again. (Psalm 139:14, Esther 4:14, Lamentations 3:22-23)
Pondering God's resolutions for me has changed how I am approaching New Year's plans and goals. I am encouraged to bring my ideas to Him in prayer and to listen to what He has to say about them. I am inviting Him into my hopes and dreams. But I am also trying to intentionally embrace His invitation to live out His plan for my life in a deeper way.
What do you want me to do this year, Lord? What area of my life needs attention? Will You be my strength in this, Lord, because I know I can't accomplish this on my own?
To encourage us in our dialog with God about our New Year's resolutions, plans, and goals, I found some Scripture verses that are worth pondering. The Bible is full of God's love letters to us, and He speaks to us personally and intimately through His Word. Perhaps one of these is just perfect for your 2017 journey.
For my thoughts are not your thoughts, nor are your ways my ways, says the Lord. For as the heavens are higher than the earth, so are my ways higher than your ways and my thoughts than your thoughts. (Isaiah 55:8-9)

Trust in the Lord with all your heart, and do not rely on your own insight. In all your ways acknowledge him, and he will make straight your paths. (Proverbs 3:5-6)

Take delight in the Lord, and he will give you the desires of your heart. (Psalm 37:4)

I am confident of this, that the one who began a good work among you will bring it to completion by the day of Jesus Christ. (Philippians 1:6)
My personal goals for 2017 surround my health, as I have been battling chronic illness for quite some time. I know I can't do it on my own; I have failed at every attempt. But for 2017, I am putting hope for my resolutions in Christ, not myself, to take steps toward healing—all according to His will. The Scripture quote that I am focusing on is from First Corinthians: "Do you not know that your body is a temple of the Holy Spirit within you, which you have from God? You are not your own; you were bought with a price. So glorify God in your body." (6:19-20)
Whatever you hope to do in the New Year, bring it to the Lord. And in turn He will whisper to you His resolutions, hopes, and dreams for your life. Consistent communication with God (aka prayer) allows our wills to align more with His, and then His resolutions for us will indeed become our own.
What are your New Year's resolutions, goals, or dreams? How can you invite the Lord into your plans? How can you be more attentive to His desires for your life?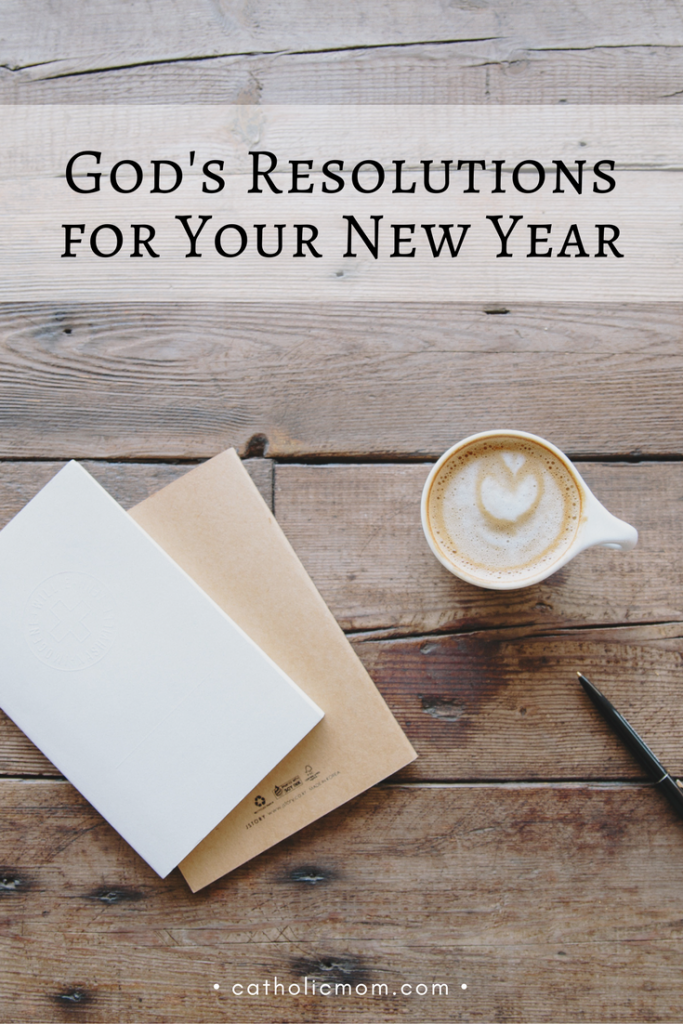 This was first published on CatholicMom.com.