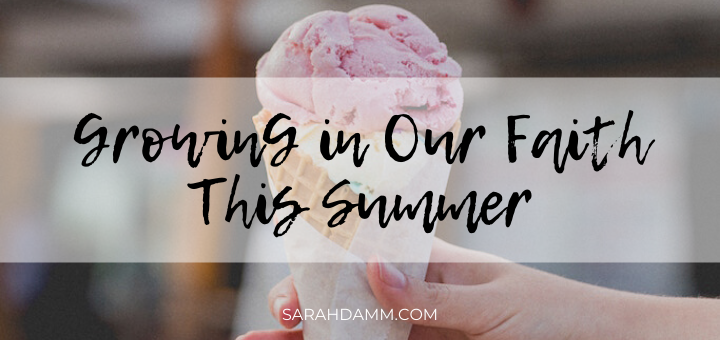 Five Ways to Grow in Faith This Summer
Five Ways to Grow in Faith This Summer
Two weeks ago, I wrapped up nine weeks of distance learning with my six children. The school year's end felt very anticlimactic, as I packed up books to return to school and recycled worksheets.
As I turned the calendar to June, I realized that we already have been home for the length of a typical summer break. And now, another 12 weeks at home—with mostly empty, uneventful days—stretched out in front of us.
And I honestly wondered, "What are we going to do?"
A Summer Like No Other
Summer 2020 is shaping up to be a summer like no other. With canceled camps, closed pools, and postponed vacations, we are settling into the reality that we will continue to spend much of the summer months in and around home.
And that could have us feeling anxious, weary, and frustrated.
Hit the Reset Button
At the beginning of quarantine, I recall an optimistic outlook about how to make the most of our time at home. We initiated grand plans to learn new things, read so many books, and declutter every nook and cranny. But as the days turned into weeks and then months, many of us grew weary. Our cozy walls started closing in on us. And our grand plans faded away.
Now, faced with more of the same this summer, it is time to take a deep breath and hit the reset button. We need a renewed outlook and a fresh perspective.
I don't pretend to have all the answers. I experience days of discouragement, too. But at the beginning of a new month and a new season, I resolve to brainstorm new ways to make the most of the reality in which we are living.
How can we keep our hope, grow in faith, and renew our spirits, especially in the midst of uncertain times and uncharted territory, like that of Covid-19?
Let's Grow in Faith
Here are five ways to grow in our faith and in our relationship with Jesus, the source of true hope, this summer.
1. Refresh your prayer
Did you know that each month of the liturgical year is dedicated to a particular Catholic devotion? This summer, change up your prayer routine to incorporate prayers pertaining to these devotions.
June: Sacred Heart of Jesus

July: Precious Blood of Jesus

August: Immaculate Heart of Mary
While you're at it, dust off the home altar and rearrange your prayer space, too.
2. Celebrate a new saint
On any given day in the liturgical year, we can remember the extraordinary life of a canonized saint. For each month of summer, discover an unfamiliar saint, and get to know him better. Celebrate his feast day by reading his biography, asking for his intercession, and enjoying a summery treat.
3. Read faith-based books—fiction and non-fiction
This summer, keep your to-read list filled with faith-based books that are good for the soul. Here are a few to get you started:
If you enjoyed

The Chosen

television series, you are sure to like

The Living Water Series

by Stephanie Landsem. Three Biblically-based novels are included, and I encourage you to start with

The Well

. The content is authentic, well researched, imaginative, and meaningful. Read my full review

here

.

Perfect for "Christmas in July" is

Ornamental Graces

by Carolyn Astfalk. It follows the story of Dan Malone and Emily Kowalski's relationship, as it begins in the Christmas tree lot that Dan owns. As much as

Ornamental Graces

is fun and romantic, themes of faith, forgiveness, and unconditional love are woven into the story beautifully.

Lift Up Your Heart

by Rev. John Burns takes 10 timeless meditations by St. Francis de Sales and incorporates them into a mini-retreat that can easily be completed at home this summer.
4. Plant a Mary garden
Bring your faith outdoors by planting a Mary garden. It can be elaborate or simple, depending on your space and gardening skills. Typically, a Mary garden includes specific flowers named after Our Lady as well as a statue of her. If you do not have a yard, plant your flowers in large pots, and tuck a small statue or holy card among the flowers.
Here are a few traditional Marian flowers:
Geraniums: Lady Beautiful

Impatiens: Mother's Love

Marigolds: Mary's Gold

Pansies: Our Lady's Delight
5. Host your own Vacation Bible School
Keep the kids engaged in their faith this summer, too, by hosting an at-home Vacation Bible School. Below are a few free options with simple plans that are fun for the whole family.
Blessed Is She:

Based on their children's virtue book,

Rise Up: Shining with Virtue

, this at-home VBS goes through four virtues over four weeks. Each week includes Bible stories, games, coloring activities, and snack ideas.

Holy Heroes:

Sign up for one of three weeks. Daily emails include videos, games, activities, coloring pages, and recipes.

Look To Him and Be Radiant:

Teacher and DRE, Katie Bogner, has created an at-home VBS program centered on the Sacred Heart of Jesus. With two calendar options—weekly or monthly—this program includes video links, activity ideas, and even suggestions for parents and older siblings.
More summer links
What are you planning to do at home this summer? Share your fresh ideas in the comments below.
---
This was originally published on Catholicmom.com.