New Short Stories Center on the Life of St. Patrick
New Short Stories Center on the Life of St. Patrick
The new short-story collection by CatholicTeenBooks centers on the legend of one of the Catholic Church's most beloved saints: Patrick.
Treasures: Visible & Invisible consists of eight short stories written by eight talented authors:
Theresa Linden
Susan Peek
Antony Kolenc
Amanda Lauer
Carolyn Astfalk
Leslea Wahl
T.M. Gaouette
Corinna Turner
The short stories vary in genre and span a vast historical timeline.
The first five short stories are historical in nature. The first begins in the fourth century, and we reach the 19th century by the fifth story. The sixth story crosses into contemporary fiction. And by the time we reach the eighth story, we have entered a dystopian realm.
The Shamrock, Trinity, and Sacramentals
While each short story stands alone, one element that links them together is the shamrock, the three-leaf clover that St. Patrick infamously utilized to teach the complex reality of the Holy Trinity: Father, Son, and Holy Ghost. Through this simple yet profound catechesis, St. Patrick converted the Irish people from paganism to Catholicism.
In addition, Treasures touches upon the use of sacramentals in the Christian life, in a very subtle yet convincing way. It confirms the reality that God can do "extraordinary miracles through" blessed objects, such as in Acts of the Apostle "when the handkerchiefs or aprons that had touched [Paul's] skin were brought to the sick [and] their diseases left them, and the evil spirits came out of them." // Acts 19:11-12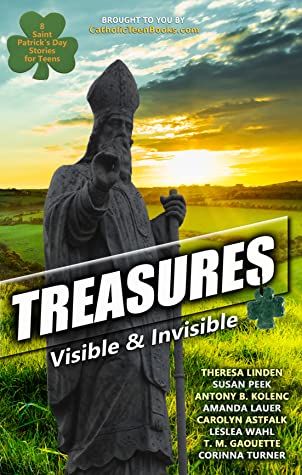 A Legit Alternative for Teens
Treasures is the third anthology in this series. The first, Secrets: Visible & Invisible, focuses on our quest for truth. (My review of Secrets can be found here.) And the second, Gifts: Visible & Invisible, contains a Christmas theme.
Not only are these stories exceptionally well written, they offer teens (and parents alike) a worthy alternative to the young-adult drivel that lacks character, virtue, and redemption. As Beth Ruggiero writes in her review of Treasures:
"In a world where today's young adults are constantly surrounded by media that is trying desperately to tear them down, it is a blessing to have books like this that reaffirms our Catholic faith. Not only does each author give us a great story to read, they also challenge us to think … The 'building-up' of today's youth is at the very heart and soul of what the authors are trying to do here, and they have done an amazing job."
While avid readers will devour Treasures, this book is an excellent option for reluctant readers, since each story is short, intriguing, and quick-paced. In addition, it will encourage teens who are already strong in their faith, while also peaking the interest of teens who may not feel overly excited about Catholicism.
Makes a Great Gift
The release of Treasures comes at a perfect time. Not only is St. Patrick's Day right around the corner … Easter is, too! Treasures is a great Easter basket filler for any teen, and it makes a great Confirmation gift, too.
And speaking of gifts, to celebrate the release of Treasures: Visible & Invisible, the authors are hosting a fun giveaway, which includes a paperback copy of the book, a Celtic cross rosary ring, a St. Patrick prayer card and medal, and festive St. Patrick socks. Click here to enter.