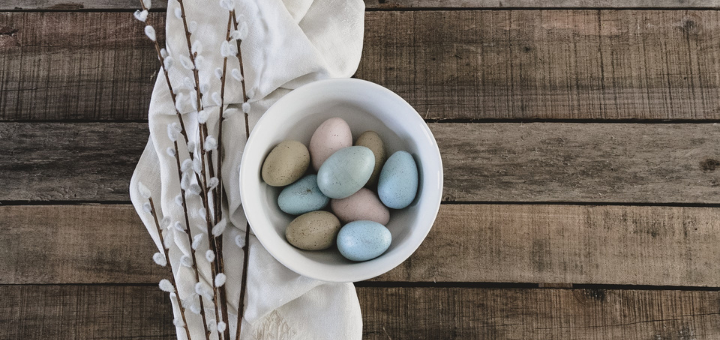 Six Ideas for Living Liturgically This Easter
Six Ideas for Living Liturgically This Easter
After praying, fasting, and almsgiving in the desert of Lent, we enter the Easter season. We walked with Jesus through His passion and death, and now we enter the glory of His resurrection.
Often, we consider Lent to be so long: 40 days and nights. But the gift of Easter is that it is even longer: 50 days to be exact.
In some ways, it is hard to fathom how to live out those 50 days. After feasting and celebrating on Easter Sunday and throughout the Easter Octave, what else is there to do? We certainly cannot keep eating jelly beans and chocolate eggs, can we?
How do we live liturgically during the entire Easter season?
Six Ideas for Living Liturgically This Easter
1) Holy Habits
Did you work on cultivating a particular prayer practice or holy habit during Lent? If so, keep it going this Easter!
Maintain your daily prayer routine

Keep your weekly Holy Hour

Continue going to Confession once a month
2) Easter Devotionals
Lenten devotionals are very popular. But what happens when we reach the end of the book? Consider an Easter devotional.
Risen: 50 Ways to Live Easter, published by Blessed Is She, offers short Scriptures, reflections, prayers, and easy action items to remain engaged with the miracle of the Resurrection.
Eastertide Day by Day uses the liturgy of the Easter season so that we may rise like Christ with a stronger faith and a greater love of God. Each day includes a quote, meditation, prayer, and resolution.
3) Fasting Days
Did you know that fasting is not just for Lent? In fact, the tradition of fasting and abstinence is something Catholics are encouraged to practice year round. Regular fasting days enhances the celebration of our feast days, too.
CatholicMom.com has a treasure trove of Meatless Friday recipes to keep you inspired in the kitchen, making this holy custom second nature in no time.
In addition, consider taking up the traditional practice of Ember Days. Ember Days happen four times per year. They are observed on the Wednesday, Friday, and Saturday after St. Lucy's Day in winter, Ash Wednesday in spring, Pentecost in summer, and the Exaltation of the Cross in fall. They are days set aside for prayer and fasting. For more information, visit these helpful resources:
4) Spring Refreshing
After decluttering and detaching from unnecessary material goods this Lent, it is time to refresh the home—to springify it, to breathe new life into our living spaces. (Welcome Home by Myquillyn Smith is a great source of inspiration for seasonal decorating.)
Add pops of spring color to your rooms with throw pillows

Replace heavy blankets with light throws

Purchase a couple of plants to bring bright green hues indoors

Diffuse citrus essential oils
5) Feast Days
What feast days does the Church celebrate during Easter? Select a couple to incorporate into your Easter season.
Divine Mercy Sunday (the Sunday after Easter)

St. George (April 23)

St. Catherine of Siena (April 29)

St. Joseph the Worker (May 1)
6) Marian Devotion
Since the Easter season continues into the month of May, make plans to honor the Blessed Mother in a special way.
Make (or renew) your Consecration to Jesus through Mary

Incorporate the Rosary into your daily prayer routine

Listen to

Marian hymns

Plant a Mary garden
How will you carry out the festive nature of Easter for the next 50 days? Share your ideas in the comment box.
---
This was originally published on CatholicMom.com.