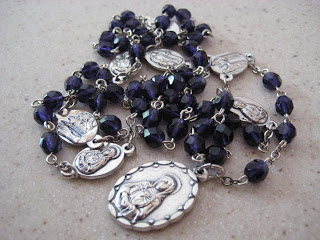 Just in Time …
Just in Time …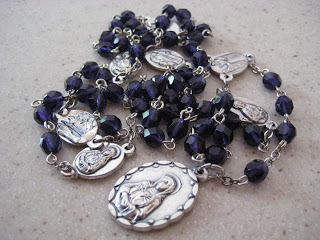 This beautiful Chaplet, made lovingly by Barbara, arrived just in time for today, the Feast of Our Lady of Sorrows. I actually received it a week or so ago. But the timing seems so perfect, as this entire month of September is dedicated to Our Lady of Sorrows.
I have not known of this Chaplet for very long. Maybe nine months or so. I first heard about it through this wonderful Catholic blog circle that I was just becoming acquainted with. Then when my mom was visiting for the summer, she asked me one day if I had ever heard of the Seven Sorrows Chaplet. I told her that I had and that I even knew someone who made them! So, I showed her Barbara's blog. She immediately decided to order one and chose dark purple beads. Then she turned to me and asked, "Well, don't you want one, too?" I took this question to be an invitation to pray, to grow closer to Our Lady and her Son. While I was taking forever to decide on a color, my mom started hearing more about the Chaplet … It confirmed in her that this was indeed a prayer she needed to start praying—as if she was being told to pray the Chaplet, because she kept hearing about it in various non-related places. And she felt sure that I needed to start praying this Chaplet, too. And you all know, moms know best! =) I also picked dark purple for the beads. It seemed like just the right color for this particular Chaplet's focus … And it will keep me connected to my mom, all the way down in Florida, to have matching beads with her.
Thanks again, Barbara! It is so lovely!