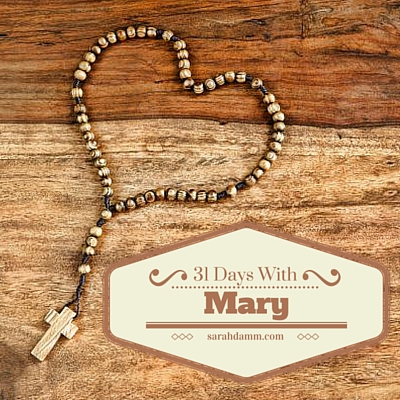 31 Days With Mary ~ 2015
31 Days With Mary ~ 2015
Welcome to 31 Days With Mary!
In the Catholic tradition, the month of October is devoted to the Rosary, the beautiful prayer that the Blessed Virgin Mary gave to St. Dominic, which invites thoughtful contemplation on the life of her Son, Jesus Christ. For the past few years, the month of October also is marked in the blog-world with a 31-day writing challenge, founded by The Nester, Myquillin Smith. I thought I would merge two of my favorite things—Our Blessed Mother and writing—during my favorite month of year. I came up with 31 Days with Mary.
During the month of October, I will blog something about Mary every day. It might be a review of a favorite Marian book; a special family tradition focused on a Marian feast day; a snippet about my own journey toward a deeper relationship with the Mother of God; or simply a beloved quote or prayer. I hope you will join me on this monthlong journey, and be sure to check out the hundreds of other bloggers who are participating in this 31-day challenge, too. All of us are linked up at 31 Days, under our respective categories. Mine is Inspiration and Faith.
Each day's blog post will link back to my landing page, so you are able to follow along with me throughout the month.
Again, welcome to my blog and to this blogging series! I hope that through this experience all of us will grow closer to the Lord, through the intercession of His loving mother.
"As our love does not start with Mary, so neither does it stop with Mary … like a magnifying glass she intensifies our love of her Son and makes our prayers more bright and burning."
—Venerable Archbishop Fulton Sheen—
Day 1 :: Welcome!
Day 2 :: How Mary Became My Queen, My Mother in SQT
Day 3 :: First Saturday of the Month
Day 4 :: Hello, Mom
Day 5 :: On the Feast of St. Faustina
Day 6 :: She Just Loves Being Our Mother
Day 7 :: Exalt in Monotony
Day 8 :: Grandma, Knitting and Mary
Day 9 :: Five Simple Ways to Invite Mary Into Your Heart, Your Home, Your Family
Day 10 :: Proclaiming God's Greatness
Day 11 :: A Picture is Worth a Thousand Words
Day 12 :: Daybook
Day 13 :: Our Lady of Fatima
Day 14 :: Liturgical Teas
Day 15 :: St. Teresa of Avila
Day 16 :: St. Margaret Mary
Day 17 :: His and Hers
Day 18 :: St. Luke
Day 19 :: @Pontifex
Day 20 :: Take It to the Queen
Day 21 :: Consolation in Times of Sorrow
Day 22 :: Marian Consecration
Day 23 :: Hail Mary
Day 24 :: Renewing Devotion
Day 25 :: Favorite Mystery of the Rosary
Day 26 :: Our Lady of Mount Carmel
Day 27 ::
Day 28 :: Slowing Down
Day 29 :: Mondays With Mary (on a Thursday)
Day 30 :: What Would Mary Do?
Day 31 :: Gratitude