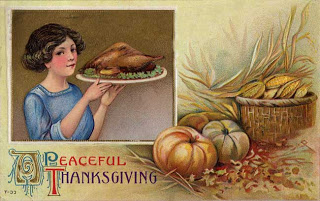 Thanks for Thanksgiving
Thanks for Thanksgiving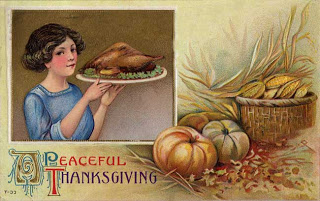 What a busy week, preparing to host my first Thanksgiving feast tomorrow! But I feel pretty peaceful about everything, which must be because of the grace I received after Confession this morning. Last night, I was feeling quite the opposite, especially when I found out we had to show our house at 3 p.m. today. A showing?! On top of getting ready to host 23 people for Thanksgiving?! Too much, I thought. But the Lord provided … He is so good!
Recipe ingredients (like celery, onions and herbs) are prepped and in labeled plastic baggies, so I don't have to chop anything tomorrow. The house is clean, thanks to the showing. And most of the things on my list are checked off. A few last-minute items are left, but I can't set tables, until the last minute anyway, or the twins will unset them for me!
My trio and I finished
An O
ld-Fashioned Thanksgiving
by Louisa May Alcott this evening. It is already on my Amazon wish-list to purchase. I hope it is one we re-read every Thanksgiving. And
this
is another favorite around here. The illustrations are so bright and so sweet.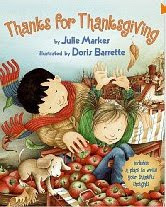 Tomorrow morning, I will get my 7-hour, slow-cooker stuffing started; my 24-pound turkey in the oven; and hopefully be able to sip coffee and tune into the Macy's Thanksgiving Day Parade. It is my favorite! One of my dreams is go to NYC to see it live one day …
The older I get, the more I love Thanksgiving. I try to be thankful and grateful everyday, but I appreciate this special day to truly reflect on the abundant blessings God has given to me and to my family.
So, happy Thanksgiving to you and yours. I pray that your day is truly filled with peace and joy (and lots of yummy food, too)!
+++
A psalm of thanksgiving. Shout joyfully to the Lord, all you lands;
worship the Lord with cries of gladness; come before him with joyful song.
Know that the Lord is God, our maker to whom we belong, whose people we are, God's well-tended flock.
Enter the temple gates with praise, its courts with thanksgiving.
Give thanks to God, bless his name;
good indeed is the Lord, whose love endures forever, whose faithfulness lasts through every age.
~Psalm 100~