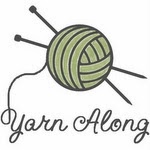 Yarn Along :: Thinking Spring
Yarn Along :: Thinking Spring
I have less than 10 inches left on my husband's scarf! The end is near! Hooray! I think Greg is even more excited that he just might be able to wear it yet this winter!
Even though March 1 is this Saturday, it is still very, very cold here. And since we haven't had quite enough cold, Greg and I decided to take a little belated anniversary trip to a destination that is even farther north and more cold than home! We recently spent two days on the North Shore of Lake Superior. And let me tell you, it was COLD! I kept looking out our window and commenting on how it looks like we are in Alaska or some remote arctic part of the world. The landscape is unbelievably gorgeous, but it is best to enjoy indoors, looking out the window from a chair near the fireplace!
So, because of experiencing so much cold, I thought I'd focus my Yarn Along today on something bright and cheery.
Another in-progress project that I started over a year ago is a shawl for a special woman in my life. I hope to finish it by Mother's Day. I love the spring colors of the yarn, and I think it will be an uplifting project to knit, as I patiently await the warmer temperatures and brighter sunshine of spring.
I continue to read The Odyssey (not much has changed since Monday). But pictured is a book that is on my docket to read this Lent. I can't wait!
For more lovely yarn-y projects and good books, please visit Small Things. I also am joining the seven posts in seven days link-up at Conversion Diary.